Middlesbrough Covid-19 Communications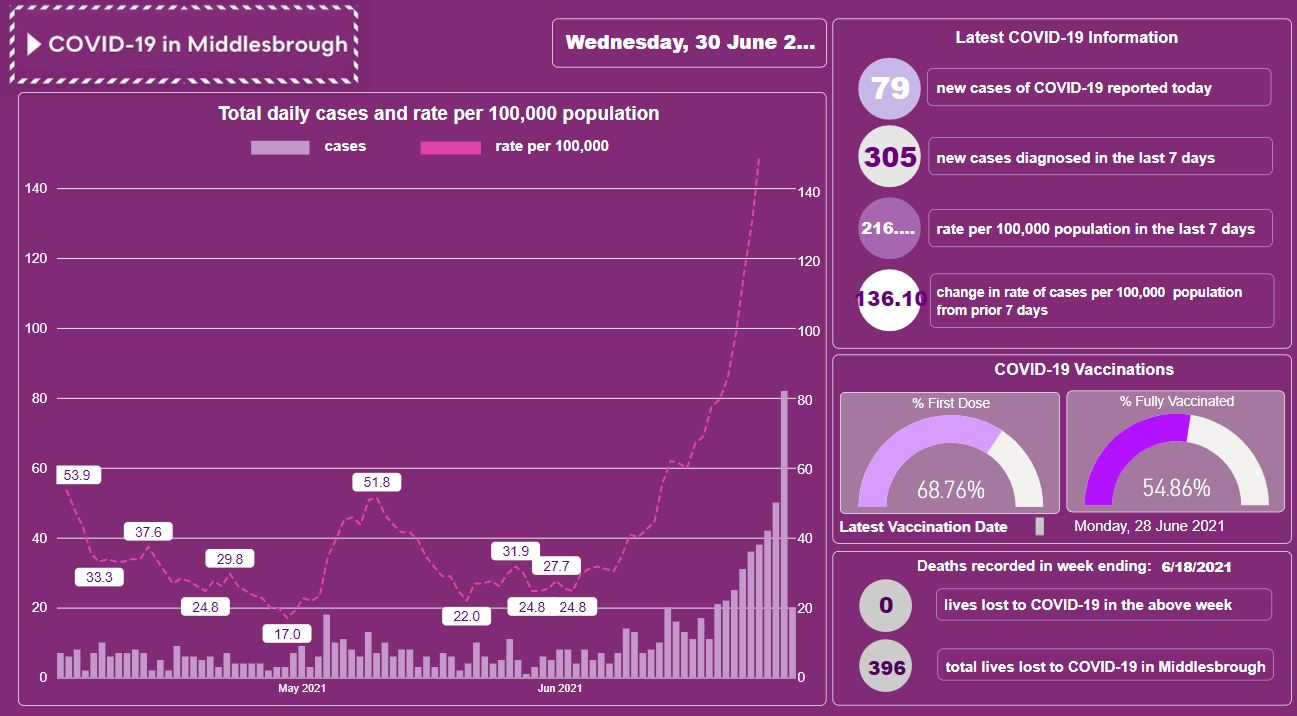 We know from recent studies that around 1 in 3 people with Covid-19 don't display symptoms. A national Community Testing Programme has been developed to offer rapid Covid-19 tests for people without symptoms.
Testing is one of the key tools we have to contain the spread of coronavirus while the vaccine programme is rolled out nationally. If we can identify more people who are carrying the infection we can help to drive down transmission rates and save lives.
To support this, we have opened our first Community Testing site providing rapid Covid-19 tests from today at Middlesbrough Sports Village with additional sites due to open next week at Newport and North Ormesby Hubs. Anyone who lives or works in Middlesbrough can book tests.
We are encouraging those people who can't work from home and are therefore more likely to come into contact with other people to book regular tests. Tests are available to book here now www.middlesbrough.gov.uk/communitytesting
People who book a test will be advised how to conduct it themselves, with results available in around an hour.
Please note that a negative result following a rapid test does not necessarily mean that you don't have Covid-19. Anyone testing negative must continue to follow all local restrictions and public health advice to protect themselves and others.
The Community Testing sites are only for people without Covid-19 symptoms. If you or anyone you know has symptoms, including - a new continuous cough, high temperate or loss/change to your sense of smell or taste – they should self-isolate and book a test at www.nhs.uk/coronavirus or by calling 119.
Please also note that if you do take part in regular testing that this should not replace your current procedures around the use of PPE, social distancing etc.
REPORTING COVID Guideline Breaches
1) For activities in workplaces report it to the Council's Environmental Health Protection Team by emailing : EHTS@middlesbrough.gov.uk
2) For activities in communities / households there are a couple of ways to address this :
Through reporting to Cleveland Police. There is not a 'COVID hotline', only the usual 101 system or online reporting through the Cleveland Police website https://www.cleveland.police.uk/tua/tell-us-about/c19/v7/tell-us-about-a-possible-breach-of-coronavirus-covid-19-measures/ They have a number of officers working every day that respond to these but they would not merit an emergency response.
Through the Council's Street Wardens – please note they can only give verbal advice to rule breakers and cannot really take enforcement action around Covid breaches. Issues can be reported directly to the street warden team by calling 01642 228500 (7 days a week from 8am – 8.30pm)
FINANCIAL SUPPORT for people who test positive with Covid-19:
We know that the financial impact on local people is worrying, but there is support available. Because anyone who tests positive for Covid has to legally isolate, as do their close contacts, we know that this can cause financial problems if they are unable to work. Support is available for this – payments of £500 are available to support eligible people who would struggle financially to self-isolate. There is a national scheme and a Middlesbrough Council scheme running to support this, with slightly different criteria. You can find out more by clicking on the link here which takes you to the Council webpage explaining this and who is eligible.