Wandsworth Fire Chief warns of fire risk to elderly
Published on 30 November 2017 11:35 AM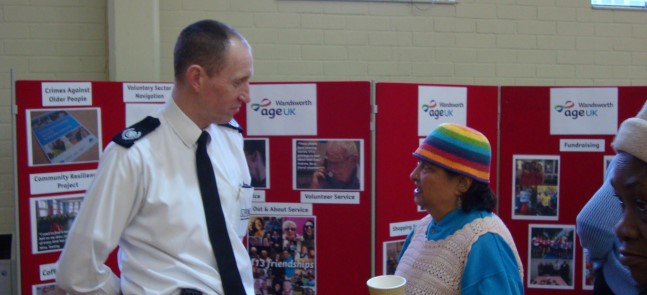 AGE UK Wandsworth's Annual General Meeting attended by Wandsworth's top Fire Officer and new Mayor of Wandsworth
Age UK Wandsworth's Annual General Meeting, held on 30th November in York Garden's library, was attended by John Snelgrove, Borough Commander, London Fire Brigade, and the Mayor of Wandsworth, Councillor Leslie McDonnell.
John Snelgrove gave an informative presentation on Fire Safety in the home and outlined some of the key risks of leaving certain items unattended such as candles, cigarettes, fire-places, some heaters and cooking food. Such risks are greater at this time of year when the weather is colder and Christmas festivities begin so older people should make sure these items are put out or made safe before leaving a room or taking a nap. The Borough Commander stressed the importance of having a working smoke alarm and a 'fire plan', which should be discussed with everyone in the household, in the unlikely event a fire breaks out in the home. He also offered free 'home fire safety visits' where a firefighter (together with a fire engine!) will come to your home, check it for any potential hazards and advise on measures to keep the home safe.
The meeting was also attended by the new Mayor of Wandsworth, Councillor Leslie McDonnell, who spoke favourably of the many services that Age UK Wandsworth offers the older residents of the borough. In particular he highlighted the 'Shopping Service' which allows older people to telephone in their shopping orders and have them delivered at a time to suit them.
Rachel Corry, Chief Executive of Age UK Wandsworth, said "We were delighted that the Mayor and Borough Commander were able to attend our AGM and that so many local residents and service-users came to hear about what we do."
"Age UK Wandsworth provides information, advice and support for older people in Wandsworth so we can prevent any situations from deteriorating or a crisis happening. It was fitting that John Snelgrove spoke to the room about proactive measures to prevent a fire in the home. Older people may be less able to react quickly should a fire start and so the information and advice that was given about ways to minimize the risk was well received"
"At Age UK Wandsworth we offer a number of timely and holistic services to improve the wellbeing of older people. This includes making sure they have the money they are entitled to, a home that is warm and safe, food in their cupboards, health and care support where it's needed, information about any issue that concerns them and social contact on a regular basis."