Helping older people to stay active and positive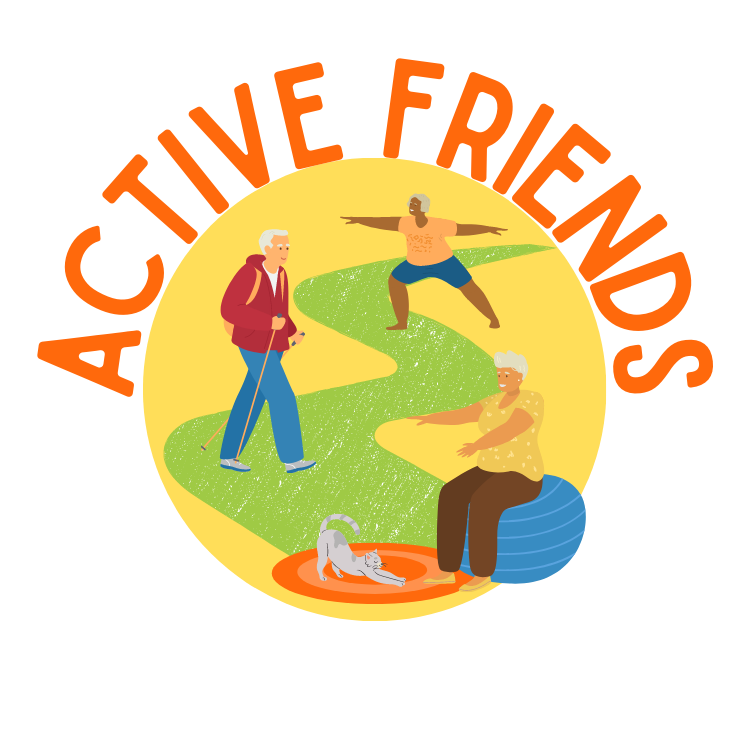 Why Active Friends?
Active Friends is an expanded version of our previous 'Active Chats' service that aims to help older people feel more confident, improve their physical and mental health, and build friendships through physical activity.
A recent survey undertaken by Age UK found that as a result of the series of lockdowns in the UK, 1/3 of older people surveyed said they have less energy, 1/5 feel less steady on their feet, ¼ said they cannot walk as far as they previously could, and ¼ are in more physical pain than pre-pandemic. We hope that through participation with Active Friends, older people will feel more motivated and able to keep themselves active, both at home and in the community.
What is Active Friends?
The Active Friends service is varied and flexible depending on an older person's needs.
An older person who may struggle to engage in physical activity on their own can be paired with a trained volunteer, who would accompany them out walking in the local area or visit them at home to work through some gentle seated exercises.
In addition, we plan to run weekly walking and seated exercise groups in Roehampton, open to all levels and abilities. Both of these sessions are set to begin in early 2022.
We have also put together a Directory of Activities containing information about a huge variety of exercise and physical activity sessions across the borough, all of which are designed for older people. This directory is updated on a bi-monthly basis, and lists activities run by gyms, leisure centres and other community organisations, as well as those run by Age UK Wandsworth. If you would like any more information please call 020 8877 8940 or email exercise@ageukwandsworth.org.uk
Who is suitable for this service?
Group sessions are suitable for anyone aged 60+ who is looking to be more active.
To be matched with a volunteer, the person must be aged 60+ and at risk of reduced mobility and/or experience difficulties accessing physical activity options independently.
Who are the Active Friends volunteers?
Our volunteers are carefully selected, DBS checked, and provided with full training and guidance to ensure everyone's safety and comfort while exercising. They are also super friendly and happy to chat, so can offer great company as well as a helping hand!
If you would be interested in volunteering as an Active Friend, please fill out the digital application pack or email exercise@ageukwandsworth.org.uk or call 020 8877 8940 for more information.
Is this service free?
Yes! There is no charge for any of our Active Friends sessions, but should you wish to donate to Age UK Wandsworth you can do so by clicking here. Any donations are very gratefully received but are not expected.
Do you know someone who would benefit from Active Friends?
If yes, please contact Sorrel Brown on 020 8877 8940, or email exercise@ageukwandsworth.org.uk .