IT Education for Senior People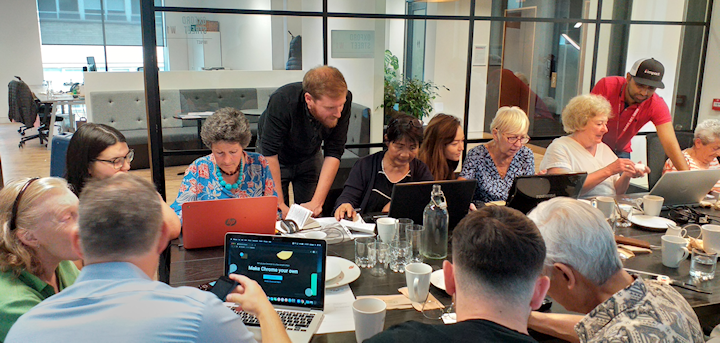 Age UK Westminster support older people who want to learn how to use their digital devices more effectively, by providing relaxed IT training drop-in sessions.
Age UK Westminster hold regular IT learning events at venue around Westminster, with help from a friendly team of IT skilled volunteers.
Our IT Education sessions are for anyone aged 50+ to help them gain basic online skills, and help with using the internet safely and with confidence. They can also support people with their own digital device, and we ask guests to bring along their own mobile phone, laptop, iPad, tablet etc.
Attendees will receive one-on-one tutoring with one of our volunteers who will help them with any questions, and support them with trying out what they have learned on their own device.
For details of our next IT Education and how to book your space please see details below:
Events
'Guests are invited to bring along their mobile phone, laptop, iPad, tablet (whatever they need help with) so that they can receive one- on-one volunteer tutoring on their own device and to help them to use their digital device more effectively in a relaxed atmosphere.'
One to one support with our committed volunteer helpers
Cakes and refreshments provided
Please Note: Numbers are limited so please book in< /p>advance
Marylebone Library
IT Parties being held at Marylebone Library, 9-11 New Cavendish Street, W1G 9UQ are from 1.30pm-3.30pm on the following days:
Friday 13th September
Friday 27th September
Friday 11th October
Friday 25th October
Friday 8th November
Friday 22nd November
Friday 6th December
Paddington Library
IT Tea Parties being held at Paddington Library, Porchester Road, W2 5DU are from 11.00am-1.00pm on the following days:
Wednesday 18th September
Mayfair Library
IT Tea Parties being held at Mayfair Library, 25 South Audley Street, Mayfair, W1K 2PB are from 2.00pm - 4.00pm on the following days:

Wednesday 25th September
Rayne House
IT Tea Parties being held at Rayne House, 170 Delaware Rd, W9 2LWare from 2.00pm-4.00pm on the following days:
Monday 16th September
Monday 23rd September
Churchill Gardens
IT Tea Parties being held at Churchill Gardens, Community Hall, SW1V 3AL are from 2.00pm - 4.00pm on the following days:

Tuesday 17th September
Tuesday 24th September
For more information or to book a space at one of our FREE IT sessions please contact our Outreach Coordinator on
Tel: 020 3004 5610 (10.00am – 2.00pm)
email: enquiries@ageukwestminster.org.uk
By taking part in the event you give your permission for Age UK Westminster to take
photographs or video of you or which may include you. The resulting imagery may be used
in order to publicise our events, or to promote the aims and projects of Age UK Westminster.
If you do not wish to be photographed please inform the event organiser.