IT Education for Senior People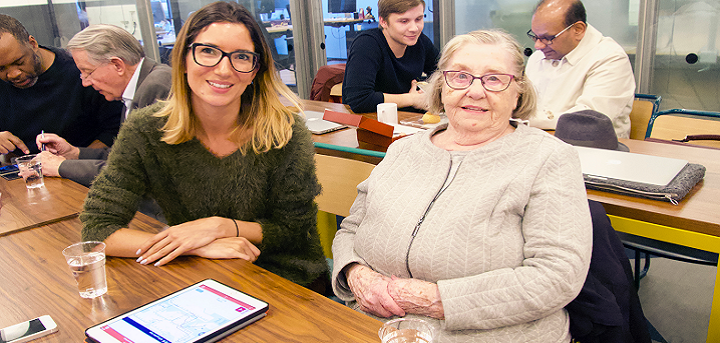 Age UK Westminster support older people who want to learn how to use their digital devices more effectively, by providing relaxed IT training drop-in sessions.
Age UK Westminster hold regular IT learning events at venue around Westminster, with help from a friendly team of IT skilled volunteers.
Our IT Education sessions are for anyone aged 50+ to help them gain basic online skills, and help with using the internet safely and with confidence. They can also support people with their own digital device, and we ask guests to bring along their own mobile phone, laptop, iPad, tablet etc.
Attendees will receive one-on-one tutoring with one of our volunteers who will help them with any questions, and support them with trying out what they have learned on their own device.
For details of our next IT Education and how to book your space please see details below:
Events
'Guests are invited to bring along their mobile phone, laptop, iPad, tablet (whatever they need help with) so that they can receive one- on-one volunteer tutoring on their own device and to help them
to use their digital device more effectively in a relaxed atmosphere.'
Marylebone Library
IT Parties being held at Marylebone Library, 9-11 New Cavendish Street, W1G 9UQ are from 1.30pm-3.30pm on the following days:
Friday 22nd February
Friday 8th March
Friday 22nd March
Friday 5th April
Westminster Archives Centre
IT Tea Parties being held at Westminster Archives Centre, 10 St Ann's Street, SW1P 2DE are from 2.00pm-4.00pm on the following days
Monday 18th February
Monday 18th March
Monday 15th April
Monday 20th May
Monday 17th June
Monday 15th July
Monday 19th August
Monday 16th September
Monday 21st October
Monday 18th November
Monday 16th December
Lancaster Hall Hotel
IT Tea Parties being held at the Lancaster Hall Hotel, 35 Craven Terrace, W2 3EL are from 10.00am-12.00pm on the following days:
Tuesday 12th February
Tuesday 12th March
For more information or to book a space at one of our FREE IT sessions please contact our Outreach Coordinator on
Tel: 020 3004 5610,
email: enquiries@ageukwestminster.org.uk