Beauty Salon, Hairdressing and Holistic Therapy
Salon Services
In need of luxurious pampering at affordable prices? We offer a range of senior salon services all under one roof at The Laburnum Social Club! Whether you are looking for beauty therapy, chiropody, holistic therapy or hairdressing we offer everything you'd find on the high street and more.
Beauty Therapy
Our Beauty Salon makes senior living a dream. We offer luxiourious pampering at affordable prices with beauty therapist Jill. The Beauty Salon is open every Monday and Tuesday from 9am to late. Jill offers a number of different packages, whether you are getting ready for a party, going on holiday or have another special occasion - there's something for all seniors! Individual treatments are also available. To book call Jill direct on 07531 062822. Click here to view our price list for Beauty Therapies

Holistic Therapy
The Salon also hosts other treatments including holistic therapies. Seniors get a treat with Maria who offers a range of treatments including Reiki, Massage, Reflexology and Aromatherapy. You can book with Maria direct on 07922 089722 for an appointment on Wednesday mornings from 9am.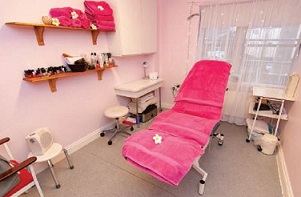 Hypnotherapy
We also offer Hypnotherapy on Wednesday afternoons with Jodie from 2pm. Hypnotherapy helps treat Fears & Phobias, Anxieties, Habit Breaking, Stress, Weight Loss, Pain Management and much more! You can book with Jodie direct on 07568 092886.
Footcare
We offer a complete footcare service for over 50s that provides all levels of care, from basic toenail cutting through to more complex needs. Some people find that cutting their own toenails and other aspect of footcare can be challenging due to poor eye sight or being unable to reach their toes due to a health-related condidtion, issues with mobility etc.

Hairdressing
Our newly fitted in-house Hairdressing Salon provides everything you will find on the high street. So if you are looking for a hair stylist for seniors we offer a cheap hairdressing at prices and a budget you can afford. For bookings call the Laburnum Social Club on 01243 827185 or call them directly on 01243 271409.
Our Salon Services are available to all our members and also to senior adults over 50 who are non-members for a small charge.