Help us keep older people connected this Winter
We don't know exactly how our lives will be affected by the Covid-19 pandemic this Winter, but we do know that with your help we can be there to support older people, whatever happens.
As many of us start to look forward to the return of festive events and seeing family and friends over the Christmas period, countless older people will be feeling anxious about the uncertainty of the Covid-19 pandemic and the long, dark Winter months ahead.
A lot of older people find themselves feeling isolated and lonely at this time of year, especially those who are living on their own, those who are housebound and those that have no family and friends nearby. Many spend day after day with only the television for company and the pandemic has increased the number of older people experiencing a significant decline in their health and wellbeing.
We need to keep older people connected, so they feel less isolated and lonely. Our Keep Connected initiative will support older people to transition into and cope with the impacts of their 'new normal' and their own changing circumstances. This includes delivering our Bags of Support, which contain items to offer comfort and reassurance, our Connect Magazine which offers information and entertainment, befriending and support over the phone and through doorstep visits from staff and volunteers, as well as help and support after returning home from hospital.
We don't know exactly how our lives will be affected by the Covid-19 pandemic this Winter, but we do know that with your help we can be there to support older people, whatever happens.
By donating £5 to our Keep Connected appeal, your gift will support us to provide an older person with a Bag of Support this Winter.
By donating £15 you could help us to offer befriending and regular Connect magazines.
By donating £25 you could support someone to receive help when they return home from hospital.
Loneliness can have a devastating impact - please donate whatever you can today at www.justgiving.com/campaign/Keep-Connected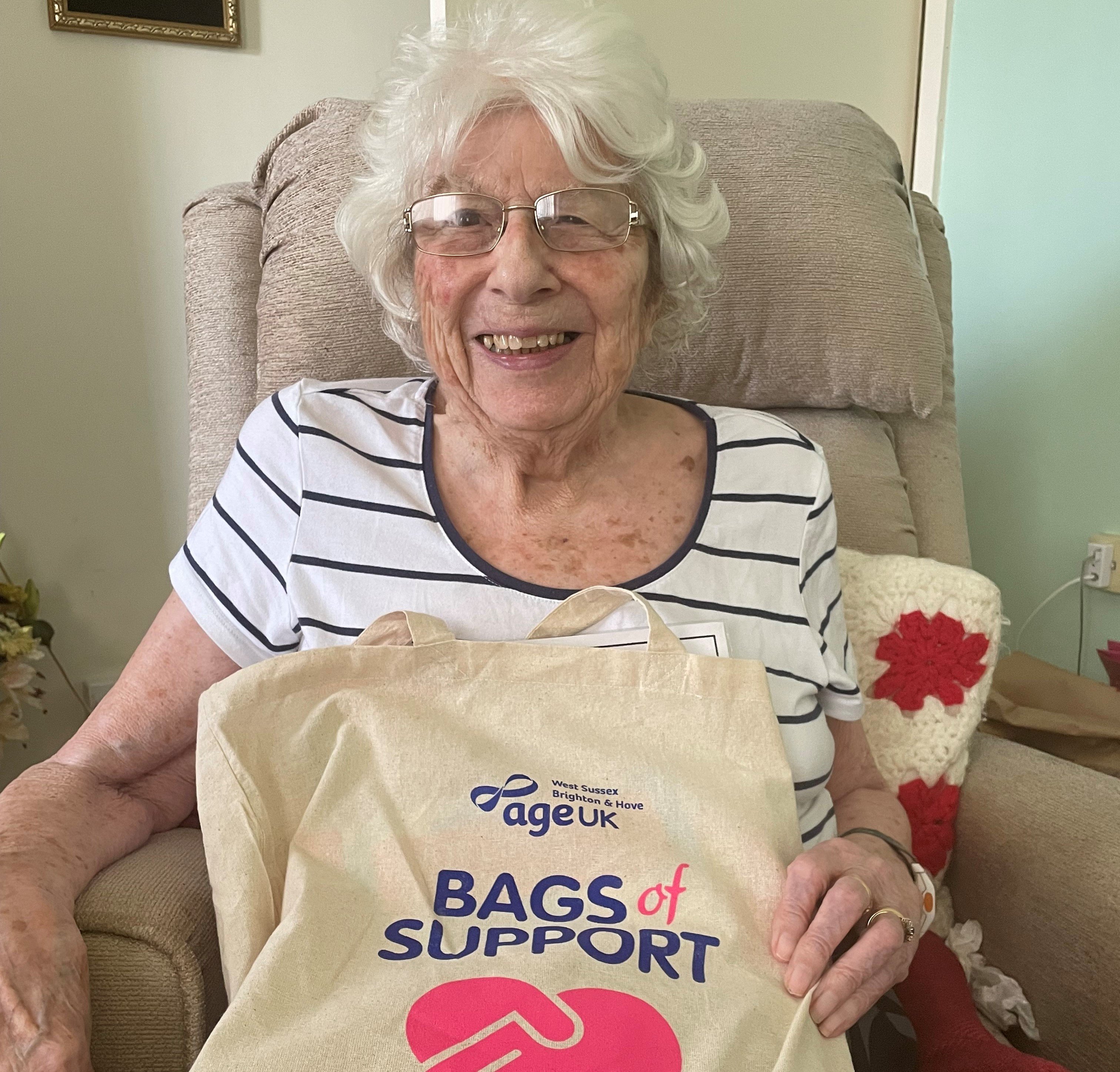 Olleen's Story
Olleen is a 92-year-old widow who lives alone. She is visually impaired and also has limited mobility and therefore relies on carers coming into her home three times a day.
Since the first Covid-19 lockdown in March 2020, Olleen has been housebound. She found lockdown extremely difficult - unable to see her friends or go to church, she felt very isolated and lonely and became quite anxious and worried at times.
We supported Olleen during this period with weekly befriending phone calls and regular doorstep visits, which included dropping off a Bag of Support and little treats such as cake and biscuits to lift her spirits. We also provided Olleen with a meal and a present for Christmas as we knew she would be spending it alone. She was so thrilled to receive this and said it made her day.
During the pandemic, Olleen's mobility has declined further. We continue to support her with befriending calls and doorstep visits to ensure she stays connected to her community and has someone to chat to about any worries, or just for some company.
"The weekly check in is reassuring and gives me something to look forward to. I'm so thankful for the support I've received - I feel less worried now and more hopeful for the future".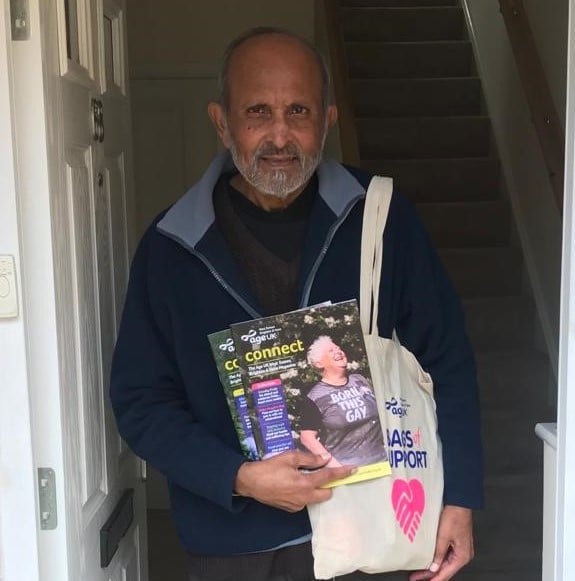 Pravin's Story
Pravin is a widower in his 70's. He was feeling isolated and lonely following the loss of his wife and after a number of significant falls, he was referred to us for support through our Home from Hospital Service.
During the pandemic, we supported Pravin by making regular telephone calls and doorstep visits to have a chat and drop off Connect Magazine and other activities to keep him busy. This befriending support helped him to cope with lockdown and the long months of isolation.
Unfortunately Pravin's health and mobility has deteriorated during the pandemic, but he enjoys reading our Connect magazines and we will continue to be there for him as he faces new challenges.
"Age UK has supported me practically and emotionally over the last few years. I had been feeling so lonely and low - having this support really helped me through a very challenging period of my life. I don't know how I would have managed without them – I am always telling people how marvelous the charity is!"