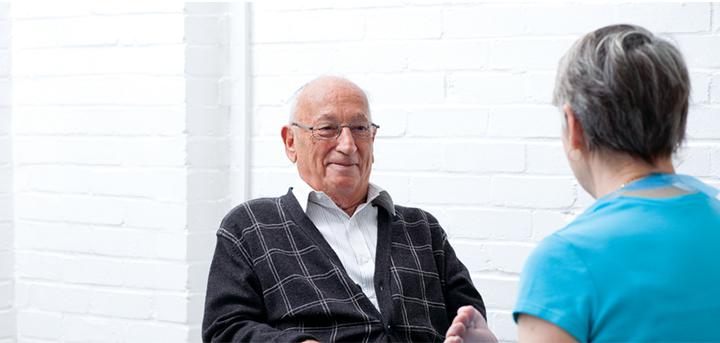 Try our nail cutting service to help you to stay comfortable on your feet.
Service availability
These services are available to residents of Brighton & Hove
Due to Coronavirus our services are under constant review and are subject to change. For the latest information on services where you live please contact us.
tel: 01903 731 800
email: info@ageukwsbh.org.uk
What does the service offer?
Our nail cutting service is run by trained staff who can help with cutting nails. Please note, this is not a chiropody service.

Who is it for?
Our nail cutting service is for people who are in good health but are unable to undertake this personal hygiene task for themselves. The service is also for when it would not be safe or practical for you to take on this task yourself.
People who wish to use the service will be assessed for their suitability. A member of the nail cutting team will complete an assessment over the phone and allocate a nail cutter to you.
The scheme may not be suitable for everyone. For example, those who:
having Chemotherapeutic agents
We are now able to provide a service for clients that are on:
Steroids
Anticoagulants/Blood thinners
are Diabetic
nails are too thick to cut with clippers
those who have nail conditions requiring treatment by a qualified healthcare professional (please contact us to discuss your footcare needs).
How much does it cost?
The current charge for these services are:
£30 for a home visit, or £22 at one of the clinics.
We can also cut fingernails for £15 – this is an add-on service to either a home or clinic visit.
In addition, new clients must purchase a nail kit for £10. This is a one-off cost and it can be used for a whole year.

How do I access the service?
We run a nail cutting clinic at our Brighton & Hove centre (if you require a home visit please contact us):
Age UK West Sussex, Brighton & Hove
29-31 Prestonville Road
Seven Dials
Brighton
BN1 3TJ
Clinics are on an appointment-only basis. Please note that this service does not operate in the evenings or at weekends.
The length of time between appointments will depend both on the needs of the individual and the availability of a nail cutter. Your nail cutter will discuss this with you at your first appointment.

Please use the contact details below if you would like to discuss the service in more detail or to make a referral.

Telephone: 01273 221 430
Email: nailcutting@ageukwsbh.org.uk
Age UK West Sussex, Brighton & Hove
29-31 Prestonville Road
Brighton
BN1 3TJ
Other information you may find helpful
Related pages on our website
Related pages on other websites