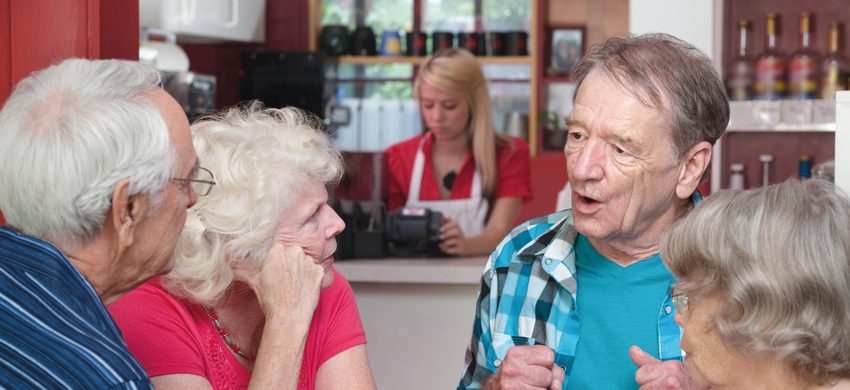 Activity & lunch clubs
For the Full Bright Days Programme Click Here
Former Forces Support Aged Veterans, Friends and Family Get Together: Leigh Sports Village, Every Thursday, 1pm-3pm
Come and join us at Leigh Community Trust for darts, dominoes, pub games, help with getting online, old time sing alongs and songs, old films, arts and craft, photography, indoor bowls, work on our community allotment, trips out and many other activities. For further information, call 07562116612 No need to book, just turn up.
Bowl & Plate: Garswood Hall Bowling and Community Club, Nicol Road Ashton, Every Friday 11 am - 2pm
Put the Fizz back into Fridays with some gentle activity, socialising and a nutrious meal. For further information, call 01942 727976.
Moazaic Cafe: Mount Zion I. M. Church, Ormskirk Road, Pemberton, First Monday of every month 2-4pm (cost £2.00 per person)
This is a dementia friendly event offering board/table games, musical activities, craft activities, chair based execise and visiting speakers. For more details contact Barry Hart (Minister) 01942 215745/07759 790005.
Cafe/drop in Centre: The Hub, St Mark's Church, Victoria Street, Newtown, Wigan, Every 3rd Monday of the month
For carers and those they care call in for refreshments and activites. £2.00 per session. No need to book just drop in.
Higher Folds Lunch Club: Higher Folds Sports and Social Club, Kensington Drive, Leigh, Every Monday 10.00am - 1.30 pm (cost £3.50)
Tea biscuits and games followed by a two course lunch and bingo. Contact Jacquie on 01942 678441 for more information and to book your place.
_________________________________________________________________
Exercise & dance sessions
Chair Yoga: Pelican Centre, Tyldesley, Mondays 11:30am -12:30pm (cost £2.50)
A gentle session for all abilities. For further information, call 01942 673495.
DEN's Line Dancing for abosolute beginners: Dorset Road Community Centre, Atherton M46 9GJ, Wednesday 3pm -4.30pm (cost £3.00)
Contact by text 07756 793174 for more info.
_________________________________________________________________
What's On Guides
Click on the below links to find out more about ongoing activites in Atherton, Leigh West and Pemberton.
_________________________________________________________________
Special Events
Greater Manchester Festival of Ageing (Wigan Borough Main Event) Thursday 5th July 12-4pm
This is a Free Event. Come along and be entertained by the Kuega Jam, the Bright Days Silver Choir and the Hindley Ukulele Group. Also lots of stalls held by local over 50's groups, walking football and stadium tours. To book a stall contact Ambition for Ageing on 01942 615895. To enquire about free transport contact Fergus Hayes on 07889 537140.
Brass and Buffet at the Botanicals - Atherton Botanical Gardens and Bowling Club - Monday 9th July 13pm - 15.30pm
This is a ticket only event £3.00 per ticket. Come along and be entertained by the Astley Brass Band, Summer quiz, Target Bowling competition (weather permitting). For further information call 01942 615883 or contact the Botanical Gardens direct 01942 883884. Tickets available from Age UK Wigan Borough Pennyhurst Mill, Haig St,Wigan WN3 4AZ.