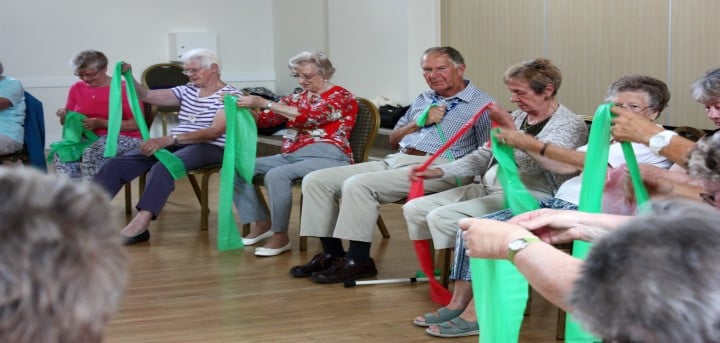 The charge is to attend one of our Fitness & Friendship Clubs
Please note, this service is not available outside Age UK Wiltshire - Head Office's catchment area.
Our Fitness and Friendship team work to promote the health and well-being of those in our community by offering support and advice on the value of exercise and activity to those making general enquiries. They also run Fitness & Friendship Clubs across the county and online to help keep you fit and active in later life. You can find out more about these below.
Fitness & Friendship Clubs
Fitness and Friendship Clubs run across the county providing an opportunity for the older adult to spend around 50 minutes doing Low Impact Functional Exercises followed by time to socialise and wind down with tai chi. They are social clubs with an emphasis on keeping active and staying healthy. Find out more about the clubs by clicking on the link below.
https://www.ageuk.org.uk/wiltshire/activities-and-events/fitness-and-friendship/
Home Exercise Videos
We've collated a number of home exercise videos to help motivate and inspire you to stay active. By clicking on the link below, you will be taken to our You Tube channel where you can view all the Home Exercise Videos in the comfort of your home.
https://www.youtube.com/playlist?list=PLMu4cEAKgQrsoacWw7D-WZnexsP3oubk-