Shops
As an independent charity, Age UK Lindsey's eight high-street shops and eBay store are vital in supporting our charitable work. The income they raise enables us to continue providing free services to older people in East Lindsey, West Lindsey and North Lincolnshire.
About Age UK Lindsey's Shops
Each store is supported by a team of dedicated staff and volunteers and with an ecclectic mix of ever-changing stock, a regular visit to each store is a must! Whether you're wanting to shop for quality pre-loved items, bag a bargain, declutter, or volunteer, our shops offer a warm welcome and are a great place to show your support for Age UK Lindsey. Scroll down for more information about each store, volunteering, donating goods and Gift Aid.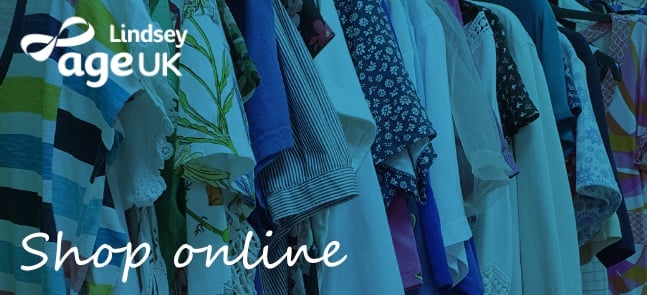 Shop online with Age UK Lindsey
Check out our eBay store for a great range of pre-loved items, delivered free, direct to your door!
I am interested in being a shop volunteer
Click here to find out more about volunteering in one of our shops
I would like to donate
Quality, saleable, pre-loved items are always gratefully received. If you have items that you would like to donate, please contact your nearest shop for details about dropping off your donation. Please do not leave bags outside our shops as this could create a hazard and you may be fined for fly-tipping.
What we can accept
Clothes; shoes; accessories; soft furnishings; books; DVDs; CDs; games; jigsaws; craft items; bric a brac; electricals and small pieces of furniture (including z-beds, sofa beds and futons); three-wheeled walkers; mobility scooters.
What we can't accept
Beds; matresses (unless brand new and in original wrapping); children's car seats and some children's equipment; electrical disability aids (stair lifts, bath hoists, etc); bicycle and motorcycle helmets; very large pieces of furniture and items that do not have the correct fire warning labels; integrated electrical goods; microwaves; old-style boxy TVs; glass or MDF television tables; mobility aids (with the excpetion of three-wheeled walkers and scooters.
Please note, we cannot accept anything which is stained, damaged, broken or smelling of tobacco and/or pets.
If you have any doubts about the items you wish to donate, our shop staff and stock collectors can advise.
I would like to find out more about Gift Aid
If you are a UK taxpayer we can make 25% more from your donations. The Gift Aid scheme allows charities to claim back tax paid on donations, which means we receive more for the items you donate, and it doesn't cost you a penny!
Please call into any of our shops for more details or check out the gov.uk website.