"A shed is to a man what a handbag is to a woman – both contain all the essentials for surviving in the modern world."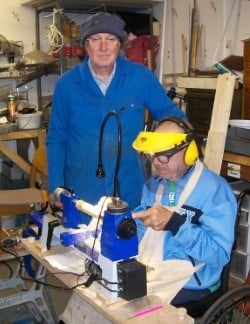 Age UK Oldham's Men in Sheds project is an initiative by Age UK Oldham that aims to reduce isolation among men over 55. The project has a distinct community development philosophy and positively impacts the health and wellbeing of men who have become socially isolated due to life changing circumstances or long term or acute health conditions.
According to research for Age UK, more than one million older men now live alone in the UK, and this number is only set to rise. Many of these older men have faced issues associated with significant changes in their lives including ageing, health, retirement, isolation, redundancy, unemployment, disability, bereavement, etc.
A concept originally developed in Australia, Men in Sheds involves providing a workshop, tools and equipment to men in later life. They can use existing skills, learn new ones and get involved in productive activity, while enjoying the benefits of working in a social group. Men can get together in the sheds to make things, repair things and generally tinker, and of course put the world to rights over a cup of tea.


Activities
We are getting men in one place to improve their wellbeing, engage in activities they enjoy to help them relax and to encourage them to come regularly by being involved in activities such as:
Refurbish furniture
Framing pictures / photographs
Wooden toy making
Making bird tables and window boxes
Assembling hanging baskets / tubs, etc.


The project also provides an opportunity for men in later life to access information, advice and other services which they might not otherwise seek out. It's a myth that men are not interested in their health or health services. However, they have to be presented in the right way as previously men have often been difficult to engage through the more conventional methods. After active lives spent in work, most did not want to "sit around talking". They are happier talking shoulder to shoulder, doing a job, than face to face. In that environment men will talk about all sorts of things; they feel comfortable in their shed.
Men, particularly those over 60, tend to be slower at going to the doctors for problems that might to be turn out to be serious. Research shows that men who are socially connected take better care of their own health, leading to healthier lifestyles and seeking help from health care professionals. We continue to highlight to funders that not all men will be ready for discharged after 6 months. Therefore the length of stay has been increased for some men. Although for some men who have lost confidence and become socially isolated we have been able to find them other opportunities. It is clear a place in the sheds is an alternative to the traditional services and fills in a missing preventative element for men of a certain age.
Outside of the shed men have organised social group activities to places of interest. This has proved both popular and therapeutic. We have some great links with schools, community projects and council schemes.


Being involved in our Men in Sheds project:
Ensures older men are having fun and keeping well
Gives structure and purpose to participant's daily routine
Offers the opportunity to share and learn new skills
Improves long term employment prospects
Establishes new friendships / renew past friendships
Improves physical, emotional and mental wellbeing
Increases opportunities available to contribute and participate in the local communities
Enables older men to access services and benefits which support independent living
Provides access to ensure that older men claim and receive the financial benefits they are entitled
Improves confidence and self-worth
Provides respite for carers as appropriate
Reduces social isolation and resultant poor health
Promotes the retantion of fine and gross motor skills and co-ordination (if we don't use it we'll lose it!)
Costs
There is a charge for £3 per session.
---
Locations and times


Failsworth
Charles House, Albert St West, Failsworth M35 0JN
Tuesday and Wednesday, 9:00am - 4:00pm
Greenfield
Tanners Waterside Mill, Chew Valley Road, Greenfield, Oldham OL3 7NH
Thursday & Friday, 9:00am - 4:00pm


---
Accessing this service
If you or someone you know would like to take part in our Men in Sheds project, you can contact Tim Kirkwood on the details below.
Referrals will be considered from men who are over the age of 55 and who have undergone life changing experiences such as redundancy, loss of a partner, early dementia, mental health problems, lack of confidence, etc.


Contact
Tim Kirkwood - Men in Sheds Coordinator
Phone: 0161 682 4747 Mobile: 07711 007 260
Email: meninsheds@ageukoldham.org.uk


Further information
More on our website
More on the Age UK national website
More on other websites