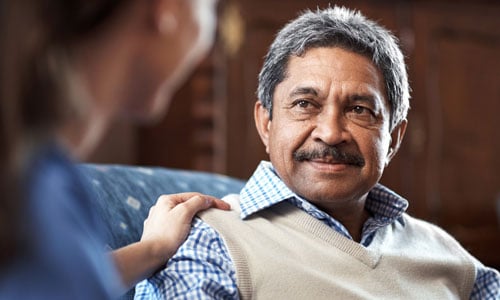 Care at home
Information about care at home
Most older people want to live independently in their own homes for as long as possible. If you are finding day-to-day activities such as bathing and dressing yourself difficult, or you have mobility problems that make it hard to get around your home safely, you can ask the council for help.
This page explains more about what care at home is and how to get it.
There may be care, support, equipment or adaptations which could
help you to manage better at home. Responsibility for providing care,
equipment or minor adaptations is split between your local council
and NHS, who should work closely together
Do you want more information about the type of practical help you can get?
Download and read our free guide about practical support at home today.
The council can come and see you to assess your needs. They will:
talk to you about the help you think you need
work out if you will need to pay towards the cost of the help
arrange services for you, or support you to choose and arrange them yourself
let you know if they can provide any equipment to help you, for example grab rails and easy-grip kitchen equipment
Want to find out more about the assessment and funding?
Download and read our free guide about the council assessment and funding for care at home.
The Age Scotland Helpline
Our free 0800 12 44 222 helpline is a free, confidential phone service for older people, their carers and families in Scotland. Lines are open Monday to Friday 9am - 5pm.

Order copies of our publications
You can download our guides using the links on this page. To request copies, which will be posted out to you for free, you can use our online publications order form or call the Age Scotland Helpline (0800 12 44 222 Monday to Friday 9am-5pm).