We believe that it's important for older people in Essex to have access to the internet, computers and enjoy all the benefits they bring.
If you or a loved-one would like to learn more about using a computer and the internet, Age UK Essex has teamed up with a local expert to offer a range of classes to help boost your confidence with technology.
How we can help you
Beginner courses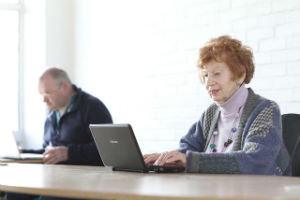 Our six session beginner course will introduce you to the features of a Microsoft Windows computer. Our friendly, knowledgeable and patient volunteers will show you how to use the internet so you can shop online, send and receive email or chat to distant friends and relatives using Skype.
You will also learn basic word processing skills such as typing a letter and how to save pictures and documents on to a CD or memory stick.
The course runs over a period of six weeks costs just £60 which includes a free memory stick and a complimentary visit to our Computer Club.
iPad Beginner Course
Are you thinking about buying an iPad and want to learn more about it? Or do you own an iPad and want to put it to better use? These lessons are designed for beginners and will cover the very basics from what the roud button at the bottom of the iPad does to showing you step-by-step how to download your first app. You will also learn how to find the web browser so you can surf the internet, shop online, send and recieve emails, download books from your local library and communicate with loved-ones and friends using Skype.
The four one-hour sessions are instructed using 4th generation iPads and cost only £50 which includes a complimentary visit to our Computer Club.
Computer Club
Join us every month to meet new people and exchange digital know-how. Our friendly and knowledgeable volunteers are on hand to provide you with help and encouragement whether you're a beginner or looking to learn new skills. You can bring your own computer or use one of ours - you don't need to own a computer to participate in the club.
The Computer Club currently meet every 1st and 3rd Friday of the month between 10am and 12pm at the Salvation Army Hall, Baddow Road, Chelmsford. It costs £5 a session to attend.
Get in touch
If you would like more information, please contact Jeremy Anderson on 01245 806145 or visit his website for details of future course dates and other services.
You can also email him at jeremy@itman.biz.