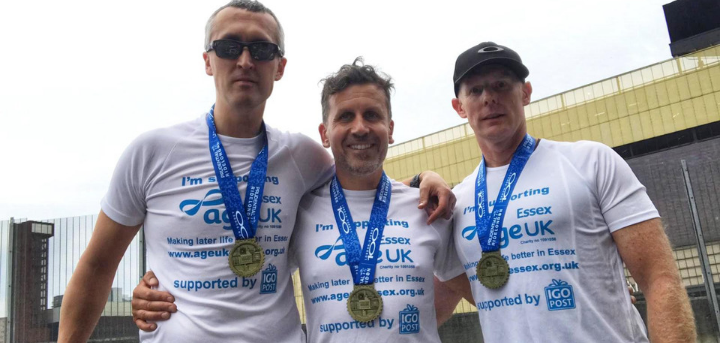 Fundraise for us and you can help us change the life of a vulnerable older person in Essex for the better.
At Age UK Essex we rely on your kind generosity to help us provide many of our vital services. We don't receive any funding from the national Age UK charity for our day-to-day services and with the pressures on our health and social care system growing, more and more people are in need of help and are turning to us for support.
There are lots of different ways you can get involved and help us raise money. Whether you're fundraising on your own or as part of a group or business, our fundraising team can offer lots of advice and support to help you meet your target and are here to make sure you stay safe and have lots of fun! If you'd like to talk to us about your fundraising ideas, get in touch on 01245 207 065.
With 1 in 5 of us now expected to celebrate our 100th birthday, we need your help now more than ever to continue to provide life changing help and support to older people in Essex.
Fundraising Guide
Ideas, tips and inspiration for successful fundraising
More Opportunities
Events

Attending one of our super-fun family events is an easy way to support our work - take a look at what's coming up this year.

Challenges

Do something bold and brave and make memories that will last a life time while raising money for a good cause.

Community

If your club, group or organisation would like to support Age UK Essex, we've got lots of ways you can get involved.
Corporates

From fundraising partnerships to making us your charity of the year, we'd love to work with your company.

Schools

We've got curriculum-centred activities for primary and secondary pupils which highlight our work.

Legacy

Leaving us a gift in your will can help us be there for vulnerable older people in Essex the future.
Help us change lives
With an aging population the demand for our services is growing and we need your support now more than ever. Please help us be there for everyone who needs us.