"Volunteering is very rewarding. I always end my day happy, knowing I've bought someone the companionship that is so needed."
Age UK Essex volunteer
Why volunteer?
Do you love listening and talking? Would you like to support someone learning a new skill? Can you help give a vulnerable person a voice? If so, we want you to join our volunteering team.
There are many reasons why it's great to volunteer. It's an ideal way to give something back to your community and make a difference in people's lives. It can provide an opportunity to develop new skills or build on existing experience and knowledge. It's also a great way to meet others and spend time with people.
We could not function without our dedicated team of volunteers who help us deliver vital services to older people in Essex. Whatever your talents and interests, we're bound to have a voluntary opportunity where you can you share your knowledge, make new friends and have fun! You'll also get the chance to learn new skills and gain important experience to add to your CV.
All our volunteers are offered full training and will get ongoing support and advice from our volunteer management team.
So if you have the time, no matter how little, there are many ways in which you can get involved.
The volunteering process
It's incredibly important to us that our volunteers love what they do and that you get back as much as you put in. So in order to prepare you for your volunteering role, we have a simple recruitment and training process in place.
We ask all our volunteers to:
Complete an enrolment form and provide us with two referees who we can contact for references.
Attend an informal interview.
Attend a one day training session where we will tell you more about the organization, and how the service runs.
Complete an enhanced DBS check; this is a check which shows any current and spent convictions, cautions, reprimands and warnings.
This process normally takes about two months to complete but it can vary depending on the role you have volunteered for.
If you can't see a role that fits what you're looking for please get in touch, our volunteer team would love to speak to you. You can give them a ring on 01245 207 011.
Meet some of our amazing volunteers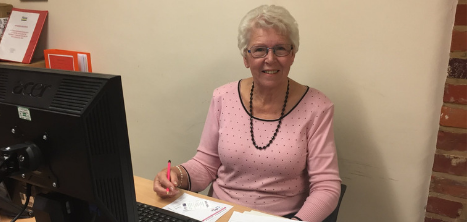 Jeanne volunteers as a Receptionist Volunteer.
"When I first retired I quickly realised my week needed structure. I started volunteering for Age UK Essex as an Admin Assistant with the Toenail Cutting Service, meeting and greeting clients at the many venues around Essex. I later transferred to the head office in Chelmsford as a receptionist. The staff have been so encouraging I look forward to my time there. I feel volunteering is so worthwhile and rewarding."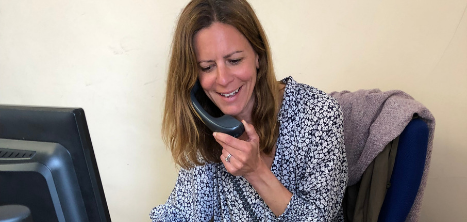 Jo volunteers as a Befriender.
"Volunteering as a telephone befriender is something I feel more people should do if they have a few hours to spare. Listening to someone can be invaluable, whether they are feeling down, are worried about something or have some happy stories to share. I love knowing that I'm helping by just giving up a little bit of my spare time and that the short conversation I have with my client goes a long way in making them feel cared for and less lonely."
Josh volunteers as an IT Assistant.
"Through my college course I arranged to have a weekly work placement at Age UK Essex to gain experience within their IT department. Throughout my time here I have had lots of really varied experience and learned so much that's helped me in my college course as well as general life skills like getting to know how an office works. I would recommend volunteering at Age UK Essex to anybody looking to gain work experience. It's an enjoyable atmosphere and it has given me a lot of insight into working life and helped me to develop skills for the future."
Cadbury are joining Age UK to fight loneliness
There's a crisis in the UK. 1.4 million older people struggle with loneliness. 225,000 often go a whole week without speaking to anyone. Cadbury are donating the words from their Cadbury Dairy Milk bars to help.
Current volunteering roles
This role is to accompany our Toenail Trimmers to clients homes in our pool car to provide administrative duties such as filling in record cards, completing monitoring forms and chatting with clients to enable a quality, smooth running of the service.

We need volunteers to help us at our mobile toenail cutting clinics by greeting clients, helping them to complete forms and issuing receipts. We are particularly looking for volunteers in Braintree, Basildon, Brentwood, Chelmsford, Epping, Rayleigh, Southend and Thurrock areas.
The Voice Network is designed to give older people a voice. Our volunteers work in local communities, visiting and sharing information about services with older people, their families, carers, clubs and groups.

We are looking for enthusiastic, approachable volunteers to cover our reception duties at Widford Hall, Chelmsford.

We are looking for volunteers in the Basildon and Thurrock areas to visit older people on a weekly basis in their own homes to provide company and friendship to help alleviate loneliness and isolation.
Our Home Help assistant volunteers support our staff at our office in Basildon by collating information, maintaining records and helping with tasks like satisfaction monitoring and service promotion.

We are always keen to support our lovely community fundraising volunteers with their wide and varied events and projects across the county.

We are looking for volunteers for our Smart Life service in the Harlow area. The service supports people over 16 years of age who may be suffering from a long term condition and/or social isolation.
What else you can do to support us
Take part in a fundraiser

Could you help us to raise vital funds? We have lots of exciting activities and ideas which you, your club, group or business could join in with to help support older people in your local community.

Become a microvolunteer

Looking for quick, easy-to-do actions that, small as they might seem, are still incredibly valuable to our charity? Then microvolunteering is for you. Microvolunteering allows you to volunteer for us without making a regular commitment.