The Voice Network's team of specially trained volunteers go out and about to give talks about the services and facilities available for older people in their local area.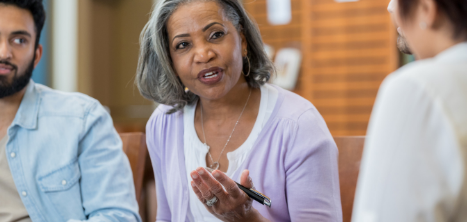 "The talk was really informative and helpful and the speakers local knowledge was exceptional."
Lunch club organiser
Book a talk
Please call our Voice Network team on 01245 200 936 or email us to arrange a suitable date and time.
How we can help you
Please note that due to Covid - 19 although we are unable to meet in person we are adapting our talks so that we can deliver this service virtually.
It's really important that older people in Essex know where to go if they need help and who they can turn to for support.
Attending events and visiting clubs and groups across the county, the Voice Network's team of especially trained volunteers go out in the community and deliver talks about the services and facilities available for older people in their local area; how to become a supporter of Age UK Essex and provide information booklets and leaflets of interest.
They can tell you about Age UK Essex services and what help and support is available for older people locally from other organisations.
The Voice Network operates across Essex including Southend and Thurrock visiting a wide range of organisations such as bereavement groups, housing associations, carers groups, WI meetings, GP surgeries, Rotary Clubs, patient groups and other charities.
We can visit clubs and groups of all sizes and there is no charge for us to deliver a talk; groups are able to make a donation to Age UK Essex if they would like to.
A service you can trust
To give you peace of mind all of our Voice Network volunteers are fully trained and police checked via the Disclosure and Barring Service. Our volunteers are supported by experienced staff who are there to guide and assist them.
Join our team
As a community based project we encourage regular commitment from our Voice Network Volunteers however this is a flexible role and we welcome all enquiries.
Here's what one of our Voice Network volunteers said about the role:
"Once I started giving talks to groups about the services that Age UK Essex offers, I realised how useful many older people found the information, and I became really keen (and still am) about spreading the word. And I've met lots of really lovely people, a very positive bonus!"
To find out more please get in touch with us. We would really like to hear from you.