Big Community Dog Walk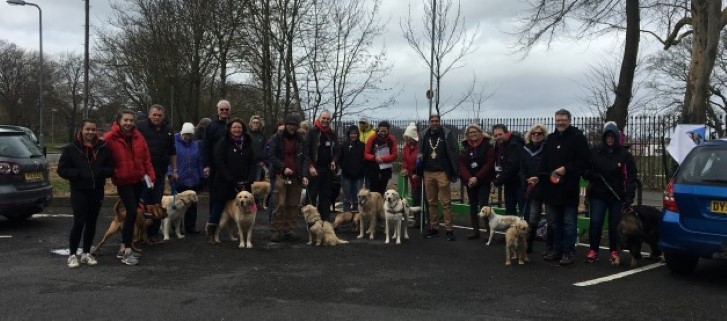 Published on 20 March 2019 11:14 AM
Saturday 16th March saw members of the community come together for Worcester's first Big Community Dog Walk. Over 50 people and their four-legged friends joined the walk.
Reconnections, a project tackling loneliness in over 50s in Worcestershire, organised the event as part of the Talk to Me Worcester campaign which is aimed at bringing the Worcester community together.
Walkers met at Croft Road Car Park at 11:30am to be welcomed by Reconnections staff before an hour long walk around Pitch Croft. The Mayor, who joined for the walk, said "I believe in the value and the mission that Reconnections is on. Just along the walk today I spoke to at least 15 or 20 different people I've never met before. The project is all about reconnecting people and tackling loneliness, it's been a wonderful experience and a fabulous turn out here today."
Poppy the Great Dane Mastiff Cross and her owners saw the event on Facebook; "I saw it on the Worcester Parks Facebook, and it sounded a really great idea. It's just nice for people to get out and talk and walk – I think Dogs really get people talking too, you've all got that common interest. Really lovely to see how many people are here too."
Reconnections' caseworker John brought along Bailey, his nine-month-old Beagle, he said; "It's lovely we've had lots of people show up, a good turn-out! It's great to see people out and about and getting a bit of exercise – having a natter and walking around Pitch Croft"
From the enormous Great Dane Poppy to tiny Pomschi (Pomeranian and Chihuahua) brothers Teddy and Parker, Worcester's dog walkers came out on a very windy day to take part in the walk.
Other comments from walkers include: "It's great to get the dogs socialising and for us to meet other people in the community tool", "We're here just to be part of the community, we get to exercise our dog – Poogle a 5-year older Border Terrier, be in the sunshine and meet new people!"
Reconnections Manager Sophie said, "It's all about getting people walking and talking, having a conversation and it's been a real success, so we'll hopefully do another one in the summer!"
Watch our video of the day:
Reconnections is provided by a partnership of local agencies led by Age UK Herefordshire and Worcestershire. We connect people, places and activities to build personal resilience and grow social networks. Over 3,000 people have been referred to the service to date and over 20 volunteers are applying each month.
Our aim is to improve health and wellbeing, with a focus on those over 50yrs who are lonely or socially isolated. Within Worcestershire up to 35,000 older people may experience loneliness and 11,500 of those are chronically lonely. (There are some stark health facts if you need them, e.g. equivalent to smoking 15 cigarettes a day)
If you would like more information or want to make a referral you can call 01905 740954 or visit the website www.reconnectionsservice.org.uk If you would like to volunteer your time to support an older person in your area: Apply Here