Cadbury Joins Forces with Age UK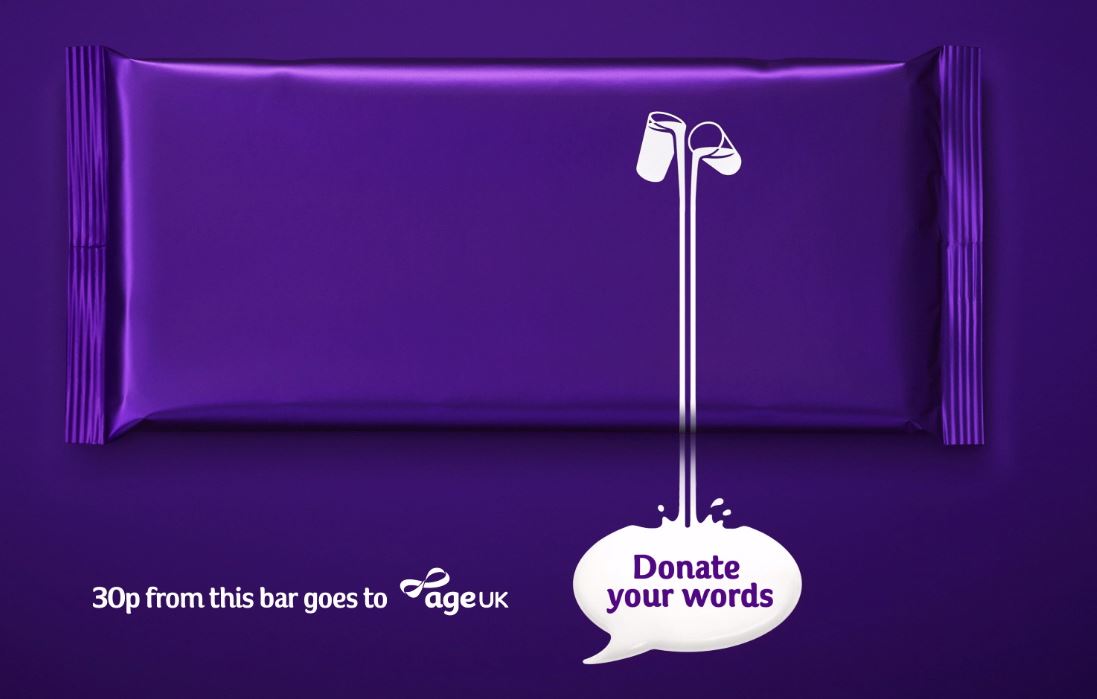 Published on 01 October 2019 12:07 PM
Cadbury is joining forces with AgeUK to fight loneliness. We're proud that Age UK is working with Cadbury to help draw attention to the 225,000 older people who often go a whole week without speaking to anyone.
Loneliness is a crisis in the UK. Being lonely affects your health, your wellbeing and the way you see yourself. It can make you feel invisible and forgotten. Age UK and Cadbury have joined forces to do something about it. And we need your help. Cadbury has donated the words from their Cadbury Dairy Milk bars –for every bar sold, 30p will go directly to Age UK to help provide vital services, support and friendship when older people need it most. We're asking you to think about how you could donate your words to make a difference to older people near you.
Visit the Donate your words website to find out more about how you can help: https://www.ageuk.org.uk/get-involved/volunteer/donate-your-words/?utm_source=local-partner&utm_medium=referral&utm_campaign=Cadbury
Our Reconnections service is a local service which is tackling loneliness across Worcestershire.
With help loneliness can be something that you leave behind. With support to improve your mood, rebuild your confidence, and get you back on track, you can start to enjoy life again. Reconnections is a service thats already helping people all over Worcestershire. They offer friendly, practical and emotional support to those who feel lonely or isolated, bringing the fun back into life.
They also offer volunteering opportunities for those who want to help others. It's a great way to get to know people and give something back to your community. With 1000 people now part of Worcestershire's Reconnections service and others getting involved as volunteers, something special is happening in across the county.
Whether you or someone you know are feeling lonely, and would be interested in joining in, or whether you think that you could make a difference by volunteering."There's a real change going on all over Worcestershire" says Reconnections Manager, Sophie Pryce, "we're seeing people's lives transform, building communities, and making new friends. And that's just the volunteers!"
www.ageuk.org.uk/herefordshireandworcestershire/our-services/reconnections/
Get in touch: reconnection@ageukhw.org.uk or 01905 740954