Dementia Wellbeing Service Launch, at The Hive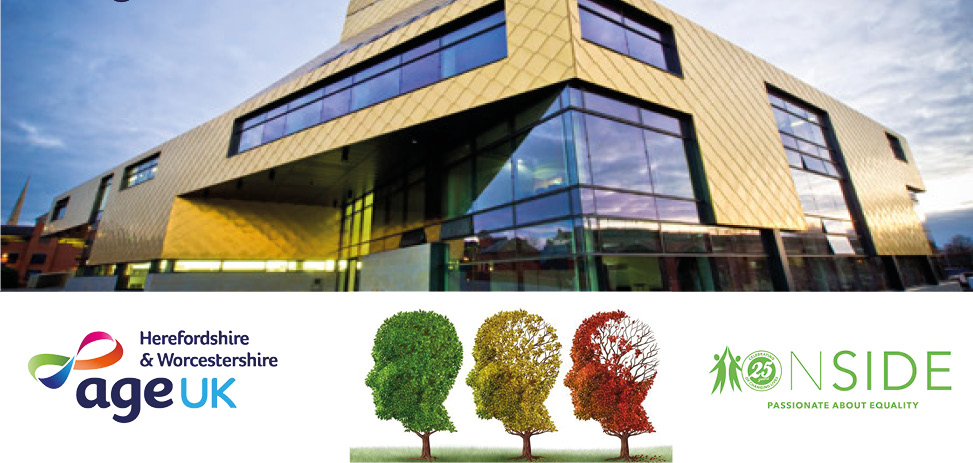 Published on 15 May 2019 11:07 AM
Dementia Wellbeing Service launch at The Hive celebrates Dementia Action Week 2019
Age UK Herefordshire & Worcestershire and Onside Advocacy are holding a drop-in launch event for Worcestershire's new Dementia Wellbeing Service, during Dementia Action Week 2019.
The launch will take place at The Hive as part of Dementia Action Week 2019 events. Healthcare professionals, referral partners and support service organisations are invited to drop-in between 11:00 and 2:00 to find out more about the service.
If you are planning on attending the launch event please sign up via Eventbrite here.
The partnership service, which began on the 1st April 2019, provides information, support & guidance to help people live well with dementia. The service was commissioned by three Worcestershire CCGs at the beginning of the year.
Carole Rowley, Transformation Delivery Programme Manager (Dementia & Mental Health) says: "We are very excited to be working with Age UK Herefordshire & Worcestershire and Onside to provide a comprehensive post diagnostic service for people in Worcestershire, which adopts an integrated approach to providing the right support at the right time for people with a diagnosis of dementia and their carer's."
The Dementia Wellbeing Service includes a Dementia Wellbeing Hub, Peer Support and Dementia Cafes and specialist support for families and people living with Young Onset Dementia.
Phillip Talbot, CEO of Age UK H&W says, "We are extremely pleased to be working with Onside Advocacy on the new Dementia Wellbeing Service for Worcestershire, the partnership means that not only can we can continue to provide specialist and quality support for local older people living dementia but also add to the support available."
Onside Advocacy will be running the county's dementia cafés and the specialist Young Onset Dementia service, Chief Executive of Onside Kate Harvey says: "We are working particularly to support younger people diagnosed with dementia. Their needs and circumstances are likely to be very different and this new service will provide individually tailored support to ensure they access the right advice and information and remain engaged and active in their communities for as long as possible.
A diagnosis of dementia can be devastating, the new service will provide seamless support from diagnosis and throughout their dementia journey – we are thrilled to be providing this new service in partnership with Age UK H&W."
Dementia Wellbeing Service Hub Opening Hours:
Monday 08:00 – 16:00
Tuesday 09:00 – 17:00
Wednesday 11:00 – 19:00
Thursday 09:00 – 17:00
Friday 08:00 – 15:30
For more information on the Dementia Wellbeing Service, please visit the website page.
If you would like any further information on the Dementia Wellbeing Service or would like to make a referral, please contact us:
T: 01905 740956 or 0800 008 6077
E: dementiawellbeing@ageukhw.org.uk
The Dementia Wellbeing Service launch is part of a programme of awareness raising and events organised by Age UK Herefordshire & Worcestershire, find out what else is going on during Dementia Action Week 2019 here.