Hereford Veterans Dementia Wellbeing Group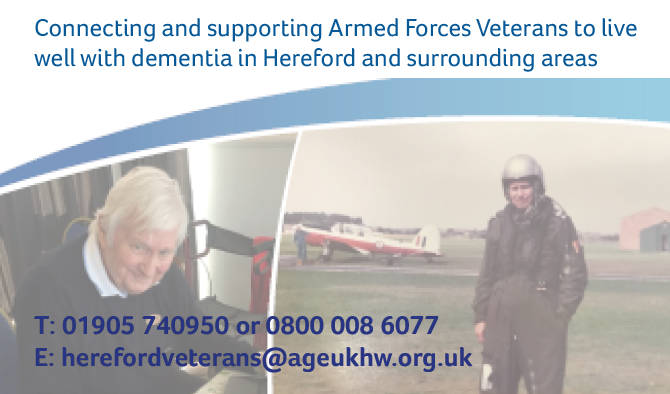 Published on 26 September 2019 11:58 AM
We are thrilled to be launching our new service connecting and supporting Armed Forces Veterans to live well with dementia in Hereford and surrounding areas.
The programme of Maintenance Cognitive Stimulation Therapy (MCST) sessions will run every Friday until Easter. Attendees will be able to take part in activites, planned MCST sessions and enjoy a hot lunch for £25 per session:
Take part in activities such as woodwork, music, indoor sports
Group cognitive stimulation therapy (NICE Guidelines Recommendation)
Support tailored to the individual and their interests
Informative sessions and one to one advice
For people living with dmentia and their support network
No formal diagnosis is necessary as long as some form of memory loss is present, members can self refer or be referred by health professionals and other organisations.
Open Fridays 10:30 - 3:30
Based at Drybridge House, Hereford HR2 7SG
£25 per person, including a cooked lunch.
For further information please contact Natasha Green on 01905 740950 or email herefordveterans@ageukhw.org.uk
View the session information on WISH Signposting.
Contact us:
Telephone: 01905 740950 or 0800 008 6077
Email: herefordveterans@ageukhw.org.uk