A Christmas Delivery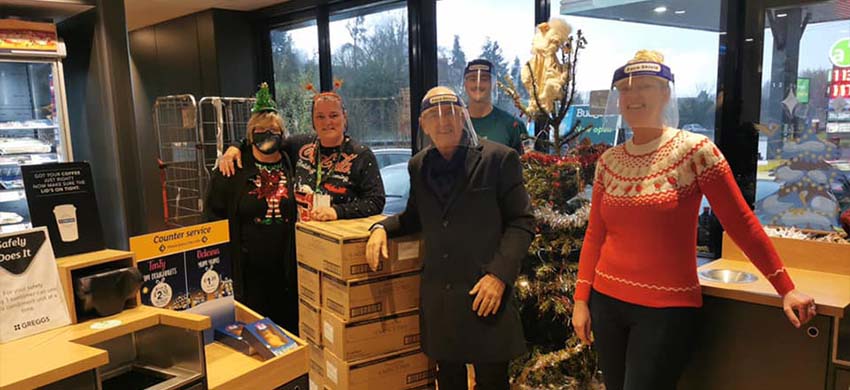 Published on 23 December 2020 02:45 PM
This year the usual Christmas day dinner held at the Larruperz Centre in Ross on Wye cant happen but organisations from around the area are working hard to support people across Ross.
Teams at EnviroAbility, The Lions and Age UK have liaised with Gay from Rumbling Tum to deliver over 80 meals to peoples front door on Christmas Day. Many of the regular volunteers that help make the usual Dinner a great occasion are joining the other volunteers to ensure all meals are delivered fresh on time.
Budgens have also kindly stepped in to donate a box of festive extras to the meals delivered by volunteers on Christmas Day.
Unfortunately we are unable to take anymore request for deliveries but the team at our Age UK Ross office are privileged to be part of supporting people across the Ross area.
If you or someone you know who lives in Ross or the surrounding area needs support please do get in contact with us. Find the Ross office contact details here.
In the picture from left to right; Dawn and Yvonne, Two members of the team at the Applegreen filling station Whitchurch that have facilitated the donation. Front is Roger a rep from the Lions team of voluntary drivers. Behind him is Sam, a regular Christmas day volunteer, who's company, McFarlane Packaging, are donating paper bags to add to an environmentally sound delivery, both of these will be there to join the delivery team on the 25th. Far right is Alison who represents Age UK H&W in Ross.
Please note opening times below are different over the festive period, you can find out when you can contact our Ross office on our
contact us page.
Contact the Ross-on-Wye office:
Monday 10am – 3pm 01989 567 165
Tuesday 9am – 2pm 01989 567 165
Wednesday 9am – 4pm 01989 567 165
Thursday 9am - 4pm 01989 763 887
Friday 9am - 4pm 01989 763 887/567 165
E: ross@ageukhw.org.uk