Check in this Christmas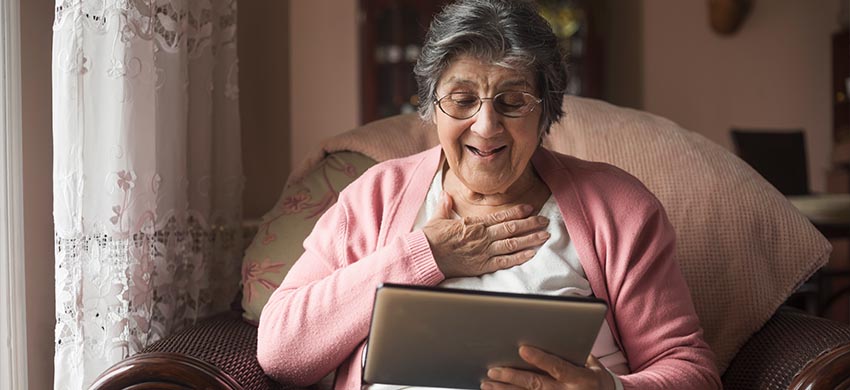 Published on 21 December 2020 03:23 PM
This Christmas is going to be different for many of us. Some of us may be spending Christmas Day with different people or may be spending it alone.
This is why it's more important than ever to keep in mind those who need us the most, this includes your older friends, relatives and neighbours who may be feeling uncertain or anxious.
Below are some ways you can support the older people in your life so that they feel supported and reassured this Christmas. Recently the rules around when you are able to see people over the Christmas period have changed. For the most up to date information visit Age UK National's website.
*Please note The Met office weather have issued a level 2 Cold Weather Alert for The West Midlands, and other areas around England. There is a risk of severe cold weather and icy conditions across Christmas eve and Christmas Day. For more information on the weather in your area visit the Met office website.*
1. Keep in touch
Keep in regular contact with older relatives and friends by phone or text whichever they prefer. Whilst you are on the phone why don't you have chat? Ask them how they are and if they are worried about anything.
It may also be helpful to introduce older relatives and friends to technology that they might find useful during this time such as Whatsapp, Skype or Zoom.
A simple wave through the window to an older neighbour can be enough to brighten someone's day.
Don't forget good old snail mail! Everyone likes receiving letters or postcards, count what and how many animals you see on your daily walk and then them about it!
2. Lend a helping hand
If you are feeling well and able why not offer to pick up some essential shopping for an older relative or neighbour. If you are helping an older person, make sure you stay at a safe distance from them (2 metres) and make sure you leave the shopping on their front doorstep, knock on their door and step back while you ensure they safely receive it.
You could find out if you can pick up and deliver any repeat prescriptions for an older person who isn't able to get to the pharmacy themselves.
If you have older friends or relatives that live further away and they aren't familiar with technology you could offer to do an online shop for them or take some time out to walk through the steps of how to order their shopping online through a phone call. Please check with the supermarket you are ordering from as some of them have restrictions on delivery slots.
3. Show them you care
You could send a homemade card or something you have made at home –finding a new projects to challenge yourself with is something great to do with children too! Share any pictures or videos of what you're up to by tagging our social media accounts – Facebook, Twitter and Instagram.
Books, magazines, and puzzles are all great ways to pass the time indoors so why not offer to order some online for an older friend or relative?
Keeping an active body and brain in later life is really important and should still be encouraged – whether that's doing exercises in their house or doing some gardening make sure your older friends and family members are doing daily exercise. You can see some examples of exercises that can be done inside or out in the garden here.
4. Useful numbers and contacts
It's important to know who to call especially if you think an older friend or relative is feeling isolated and may need support.
For information, advice, support and guidance, call Age UK Herefordshire & Worcestershire
0800 6077 800
You can see our Christmas phone line opening hours here.
Age UK National's helpline is available for the days over the festive period that our phone lines are closed. 0800 055 6112 (open every day 8am-7pm)
If someone you know is worried about coronavirus you can find out lots of information you can pass on to older friends and relatives here - www.gov.uk/coronavirus
Worcestershire County Council have lots of useful information on their website about how to cope through coronavirus. – 01905 765765 http://www.worcestershire.gov.uk/
Here2Help Worcestershire County Council – This website has lots of useful information on organisations around Worcestershire that can help - http://www.worcestershire.gov.uk/here2help
They also have a dedicated phone call for people that can't access the internet to help them fill out the help form that is online - 01905 768053.
The Here2Help opening hours are Monday to Thursday 9.00am to 5.00pm and Friday 9.00am to 4.30pm.
Herefordshire Council – 01432 260000 https://www.herefordshire.gov.uk/ They have lots of useful information on how you can get support throughout Herefordshire – They have a talk community response team of volunteers that are available to help throughout Herefordshire - https://www.herefordshire.gov.uk/info/200207/family_support/883/coronavirus/3
WISH Herefordshire - https://www.wisherefordshire.org/ This is a website ran by Herefordshire Council, they have lots of useful information about what support is available in Herefordshire.
Covid Mutual Aid Groups - Use this website to find local COVID support groups – a lot of these groups are ran through Facebook. Simply type in your postcode or the postcode of the person you are supporting and it will come up with all the groups local to that postcode - https://covidmutualaid.org/
Mind - 0208 215 2243 https://www.mind.org.uk/ There is lots of useful information about mental health on the mind website.
5. Donate
Demand for our vital services has significantly increased throughout the COVID-19 outbreak, help us to continue to support older people throughout this difficult time by donating to Age UK Herefordshire & Worcestershire. Find out how you can donate here – Thank you.
6. Volunteer with Age UK H&W
There are lots of different ways to donate, including donating your time. We are looking for volunteers for our Companion Line and volunteers to support our Home Support team. To find out more about volunteering visit our website or contact our volunteering team: E: volunteering@ageukhw.org.uk T: 0800 008 6077
Remember if you or a loved one need support this Christmas or any time of the year please contact us.
Contact Age UK Herefordshire & Worcestershire:
Telephone: 0800 008 6077
Email: referralhub@ageukhw.org.uk