Christmas Trees in the cloisters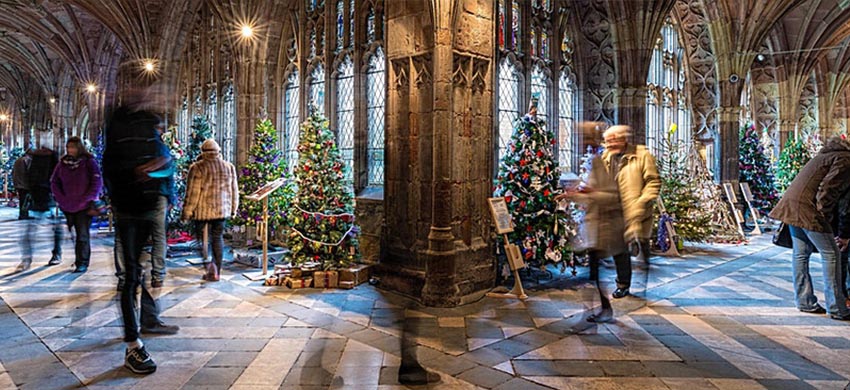 Published on 23 November 2020 10:45 AM
Join us this year along with Age UK Worcester and District at the annual Christmas tree display at the beautiful Worcester Cathedral.
We know this year has been tough but we want to bring you some Christmas cheer with the array of glittering Christmas trees! The display will be open from Saturday 5 December to Sunday 3 January 2021 (excluding Christmas Day).
Important Booking Information
Entry to see the Christmas Trees is free, however booking in advance with a timed ticket is essential.. Entrance to the Cathedral is via the main north door, in College Yard, opposite the High Street.
Due to the need to socially distance, the number of people in the Cloister will be limited. There may be the need to queue on arrival, either outside or inside the Cathedral, so please dress appropriately for the weather. Up to six people from the same household bubble (including children) can visit as one group, but each person (including babies and small children) must have a ticket booked for the same time slot.
Please note that your time slot is for the Christmas Trees; other parts of the Cathedral will be open as normal. We recommend arriving at the Cloister as close to the start of your time slot as possible. You are warmly invited to explore and enjoy the rest of the Cathedral before or after your time slot if time allows.
National Lockdown Extension: December 2020
Viewing the Christmas Trees will be subject to Government Covid-19 guidance at the time. If Lockdown is extended the start date will be postponed, and if possible will run from Wednesday 23 December until Sunday 17 January 2021 (within the traditional Christmastide period). We will notify you if the date of your booking has to be cancelled due to Government Covid-19 guidance. If dates are moved, you will need to book a new date and time slot.
Contact Age UK Herefordshire & Worcestershire:
Telephone: 0800 008 6077
Email: referralhub@ageukhw.org.uk