Get Online Week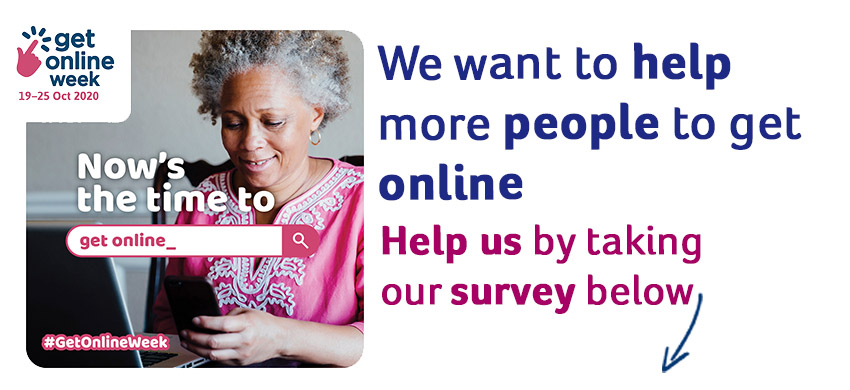 Published on 19 October 2020 03:47 PM
Did you know - not only are there 3.4 million people aged 65+ who have never used the internet, but there are also a further half a million older people who have used it in the past but not recently*? Here at Age UK Herefordshire & Worcestershire we want to do something about that.
This week we are celebrating Get Online Week. This is a campaign ran across the UK and Australia by The Good Things Foundation which gives everyone the chance to find the help they need to improve their digital skills.

Now more than ever it's so important to keep in touch with friends, family and loved ones whether that is a phone call, video call, email, letter or a simple wave through the window. Many people may not have the confidence to use a smart phone, tablet or computer which can all be really effective ways to keep in touch with people and keep up to date with the current restrictions.

We are asking you to take 5 minutes to complete our Get Online Week survey to help us get to know the digital needs of people across Herefordshire & Worcestershire. Following current government guidelines, we are looking to organise computer café taster sessions which will be run in conjunction with our current computer café.

Our computer café which is normally held twice weekly at our Malvern Gate office in Worcester is currently on hold due to the Coronavirus outbreak. We are working really hard to get these sessions back up and running in a safe and secure way for both our members, volunteers and staff. This survey will also help us with getting our computer café up and running again.

To complete the survey click here. You can complete the survey either from your own perspective or on someone else's behalf using their answers. You can find out more about Get Online Week here.

Thank you for your time. If you have any questions about Digital Inclusion or anything else please contact us.
Contact Age UK Herefordshire & Worcestershire:
Telephone: 0800 008 6077
Email: referralhub@ageukhw.org.uk