Local Age UK's raise over £2500 during the 2.6 challenge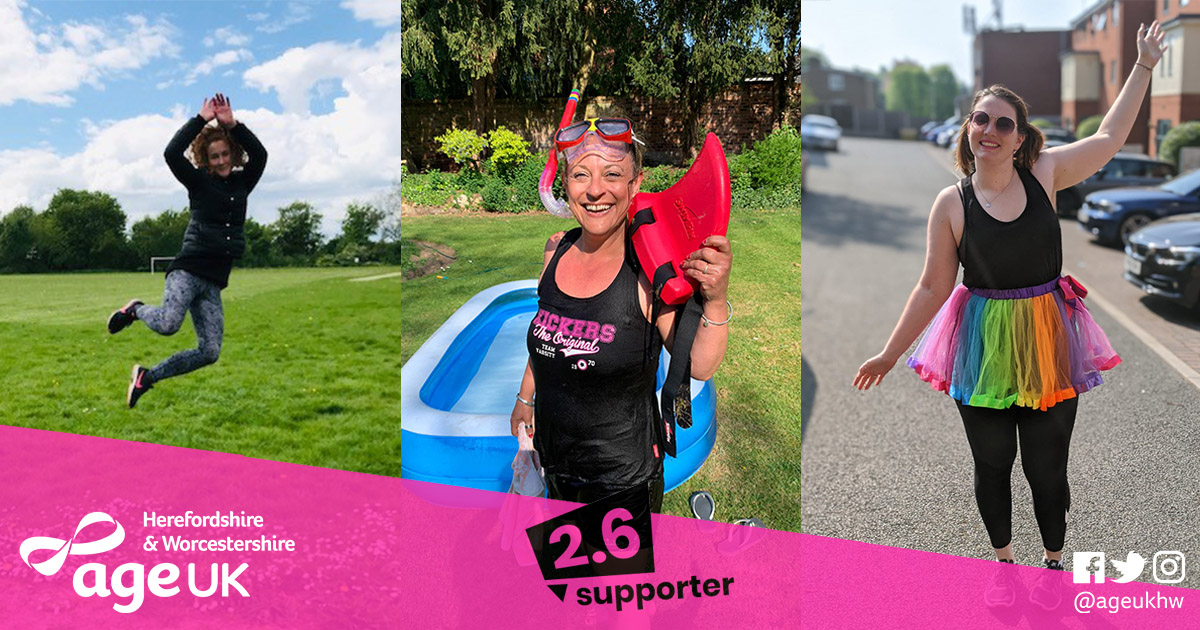 Published on 07 May 2020 04:36 PM
On Sunday 26th April 1000s of runners were due to complete the London marathon due to the coronavirus (COVID-19) outbreak it has to be postponed this is where The 2.6 Challenge was born. A campaign to support the monetary losses many charities will be facing due to many other fundraising events being cancelled.
The campaign ran for a week with millions of participants taking on their own 2.6 challenge including supporters from across Worcestershire. From their fantastic efforts over £2900 was raised so far between local Age UK's across Worcestershire. These vital funds will help to support more older people across the county during the coronavirus outbreak and into the future.
Age UK Herefordshire & Worcestershire's supporters took on challenges of their own including; a 26km exercise bike ride, a 26 mile run and a virtual team relay challenge! Our relay team took on weird and wonderful challenges (adhering to government guidelines and social distancing) We had everything from 26 lengths of a paddling pool to a 260m dizzy sprint! Fundraising efforts meant that Age UK Herefordshire & Worcestershire supporters raised over £1000 which will be vital for us to continue to support over 25,000 older people a year.
Magda COO of Age UK Herefordshire & Worcestershire said: "It was great to see supporters from across the county raising vital funds through the 2.6 challenge for Age UK. During the coronavirus outbreak it's vital that we continue to fundraise to help support older people in our area."
There is still time to donate Age UK Herefordshire & Worcestershire's 2.6 challenge participants, so please if you can – donate today. https://twopointsixchallenge.justgiving.com/get-involved?charityId=189850 Thank you.
In North Worcestershire, over £1,200 has been raised so far by supporters of Age UK Bromsgrove, Redditch and Wyre Forest! There are rising concerns about the longer-term impact that the current measures of 'self-isolation' and 'social distancing' will have on our mental wellbeing and upon the levels of loneliness and isolation within our communities. Six year old Fern knows how important Bromsgrove Men In Sheds is to her grandad and his fellow Shedders so, inspired by the 2.6 Challenge, Fern decided to cycle 26km on to help raise funds to help ensure that the Shed can continue! 'Team Hugkins' also embarked on their own 'marathon' event, completing 26 laps of their garden on a Space Hopper to help raise funds for Age UK BRWF's local support and services. Both fundraising pages are still open if you would like to show your support to Fern and/ or Team Hugkins for their amazing efforts:
Fern's 2.6 Challenge -//uk.virginmoneygiving.com/EmilyMacdonald12
6 Space Hopper Challenge - //uk.virginmoneygiving.com/ChrisPerkins11
We're hugely impressed by what our local communities have been able to dream up, successfully raising over £600 so far for Age UK Worcester & District alone. We saw everything from 2.6 mile runs, 26 push ups, swimming 26 lengths of a pool, 26 laps of the garden and many, many more wonderful ideas. It's amazing to know what people are doing to help fundraise for their local Age UK's causes.
Clare Thomas, CEO of Age UK Worcester & District, said:
'I'm so happy that we've seen people getting involved in the 2.6 challenge for all of the local Age UK's. Social isolation and loneliness has increased sharply throughout the Coronavirus outbreak, because of this, it's hugely important that we can continue to raise funds to support our vital work in the local community and keep our services running. I'd like to thank every single individual who has donated to us so far and would like to encourage those who might be thinking of taking on a 2.6 challenge to do so, it's not too late!'
All funds raised will go a long way in helping us continue to provide our essential services to older people throughout the Coronavirus outbreak and beyond. Currently the funding will go towards tackling social isolation with our befriending service; helping people at home with our homeworkers, gardening and delivering shopping and continuing to keep our expert information and advice enquiry lines open.
The local Age UK's to Worcestershire provide support to older people throughout the county. We are all brand partners of national Age UK but as independent registered charities, all the money we raise stays in the local community.
Although a lot of Age UK's services have been suspended due to the Covid-19 outbreak we are all still here to support you:
Age UK Herefordshire & Worcestershire – 0800 008 6077 www.ageukhw.org.uk
Age UK Bromsgrove, Redditch and Wyre Forest – 01527 570 490 www.ageuk.org.uk/brwf/
Age UK Worcester & District – 01905 724 294 www.ageuk.org.uk/worcesteranddistrict/