Malvern Poetry Competition!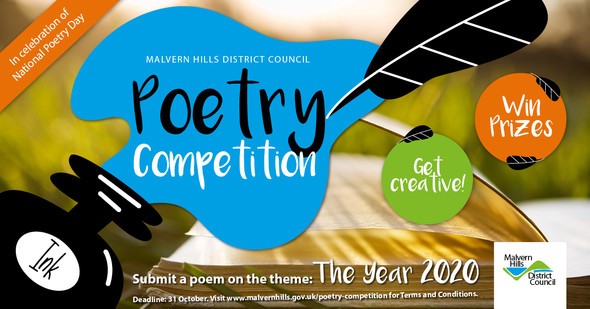 Published on 02 October 2020 11:28 AM
Yesterday marked National Poetry day and the launch of Malvern Hills District Council's annual poetry competition!
They are asking people of all ages to get involved and send us a poem.
They said: There is no doubt that this year has been very unusual, so the theme for this competition is: The Year 2020.
Your poem can be about anything you have experienced in 2020. How have you felt? What have you done? What is important to you? Be imaginative!
The age categories are:
Under 11s
Ages 12-17
Ages 18 and over
The entries will be judged by a panel of judges and a book voucher for Malvern Co-Operative will be up for grabs for a winner in each age category.
Email us at communications@malvernhills.gov.uk with your poem, name, age, postcode and contact number.
You can also submit it by post to: Communications, The Council House, Avenue Rd, Malvern, WR14 3AF
Submit your poem before the deadline on 31 October.
You can find out more about Malvern Hills District Council here.