Severn Trent Save Water Campaign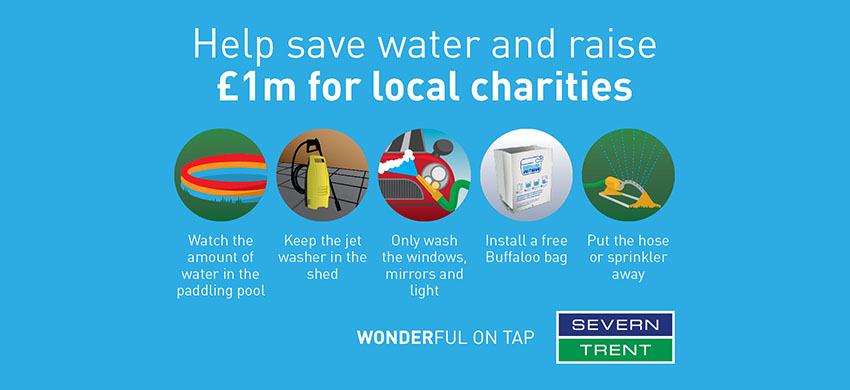 Published on 20 July 2020 11:38 AM
This June Severn Trent set the residents of The Midlands a water saving challenge. Severn Trent committed to give a percentage of £1m to local midlands charities on the frontline of the COVID response for every 150 million litres of water demand reduces, on an average daily basis, over the period to the end of June.
We are pleased to share that the campaign has been a huge success, Severn Trent has seen a massive reduction in water consumption across the region, with 267 million litres on average being saved per day last month. This means Age UK Herefordshire & Worcestershire has received £7,000 from the campaign. This very kind donation will enable us to work towards our recovery plan from Covid-19 and support people across Herefordshire and Worcestershire.
During the Covid-19 Pandemic Age UK H&W have seen a huge increase in information & advice calls as well as their other services. Our staff and volunteers are making over 1000 calls a week to clients, families and their carers, so this donation will assist us to continue to support people across the area.
Magda Praill COO of Age UK H&W said: "We know that people across our areas may be in need of more support or may need more support than before so this kind donation from Severn Trent is invaluable to help us support those people. Thank you to everyone who did their bit to save water."
Severn Trent are still encouraging residents to make saving water a habit, especially during the hot weather we have been experiencing.
Some of the top ways you can help save water include:
Putting the garden hose or sprinkler away; a brown lawn quickly bounces back to green when it rains again;
Have fun in your garden but keep an eye on how much you're using the paddling pool – an average pool uses as much as three people would use in a whole day;
If you've got a traditional toilet without the two button flush, order a free Buffaloo from Severn Trent that'll reduce how much water you use each flush;
Filthy cars are the new fashion – as long as you're keeping your windows, mirrors and lights clean maybe your car would like to get a little dirty for a change; and
Who really wants to be pressure washing the patio right now – sit down with a cold drink and enjoy the weather instead!
Thank you to Severn Trent for their kind donation and everyone that helped to save water across the area.
You can read more about Severn Trent and their campaigns here: www.stwater.co.uk/
Here's how you can get in touch with Age UK Herefordshire & Worcestershire:
Although our offices are currently shut you can still get in contact with via phone or email:
Malvern Gate contact:
T: 01905 740 950 or 0800 800 6077 - Monday to Friday 9am-4pm
Ross - on - Wye contact:
Monday 9am – 2pm 01989 567 165
Tuesday 9am – 2pm 01989 567 165
Wednesday 9am – 4pm 01989 763 887
Thursday 9am - 4pm 01989 763 887
Friday 9am - 4pm 01989 763 887/567 165
E: ageconcernross@ageukhw.org.uk