Veterans Dementia Wellbeing Group - Update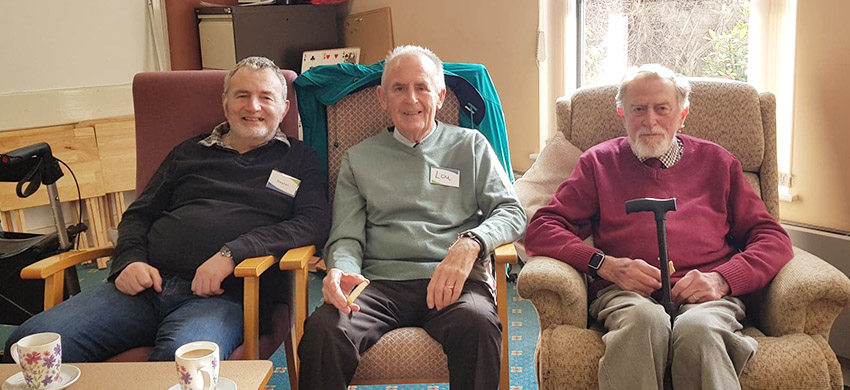 Published on 05 June 2020 02:27 PM
Earlier this year our pilot Hereford Veterans Dementia Wellbeing Group launched at Drybridge House. The group ran until Easter supporting veterans living with dementia with Maintenance Cognitive Stimulation Therapy (MCST) sessions.
Maintenance Cognitive Stimulation Therapy (MCST) is a weekly one to two-hour long programme for people living with mild to moderate dementia. Group members take part in meaningful and stimulating activities, proven to help maintain memory and mental functioning. The groups provide a fun, supportive environment where people can build new friendships.
The group attending the MCST sessions at Drybridge House consisted of four veterans that represented the Tri-Services. The group voted on a name and decided on 'Land, Sea and Air'. They chose 'Windmills of my Mind' as the group anthem and enjoy singing this with a backing track at the start of every session. Every morning of each session they discussed one local and one national news item.
Throughout the sessions the members took part in a huge variety of activities, including:
The ESO string quartet came and played for the group – they told a story about each piece of music before they play and the clients were able to request songs. The session was ended by one of their group performing an improvised piece inspired by meeting the clients.
Basket weaving with the cart shed – we were taught how to make a basket from scratch using only willow and dogwood branches
Ceramic flower printing – these were then fired and glazed for the members to take home.
Music/singing Workshop – we had a musician visit over a few sessions. She helped the members to create a group song, in which each client created a verse about their experience in the forces, she then she helped us to compose the music to go along with the lyrics.
We also did two sessions where a member of staff bought in a box of antiques and old household objects from her family home – we handed these around and discussed and the clients reminisced about familiar objects. One of the members of staff recalls her favourite session was when one of the members, who didn't communicate often, held an old glass baby bottle from boots pharmacy from the 1920's/30's and told us about her children and that she had used these bottles with all of them. She said "It was wonderful to see her so animated and joining in with the discussion."
Carers of the members of the group reported a range of improvements they noticed of the members including - energy levels increased, improved appetite, mental wellbeing, increased engagement with family and self-confidence. Carers also reported feeling better in themselves saying they had greater energy levels. They were also grateful to know that the members were safe and having fun in the sessions. It allowed them to relax, get some respite and improved relationships.
The wife and carer of one of the members said: "Since the onset of his dementia his self-confidence has sadly decreased and he now becomes anxious and depressed. He's nervous not wanting me out of his sight. The sessions at Drybridge House have lifted him in ALL ways tremendously! On Friday mornings he's eager and ready to get going, he does not want to miss the sessions (it's lovely to see). I have peeped in and watched the happy man laughing and inter-acting with those present".
Thank you to all the members and carers that attended the sessions, we are really pleased with the progress of the sessions and the benefits the members gained from the sessions.
See more information about MCST here.
You can contact our Dementia Wellbeing service here.
Contact Age UK Herefordshire & Worcestershire:
Telephone: 0800 008 6077
Email: admin@ageukhw.org.uk