Active Ageing research by ukactive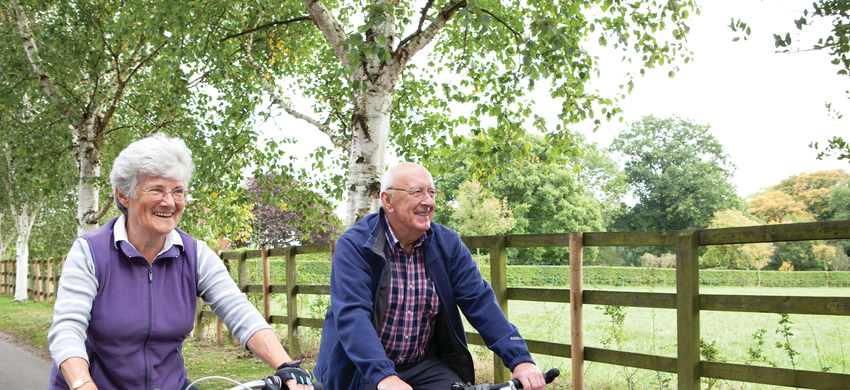 Published on 29 January 2021 04:09 PM
We would like to let you know about an opportunity to be involved in a research project online that has is being led by ukactive.
ukactive is a not-for-profit membership organisation with the vision to get more people, more active, more often. We are supporting this research conducted by ukactive to help develop and grow the fitness and leisure sector and yourselves, as our valued clients. Since 2011 ukactive have operated a Research Institute which aims to demonstrate how exercise programmes help quality of life and prevent and manage chronic disease. The ukactive Research Institute are the independent research partners for this project.
In September 2020, the ukactive Research Institute, in partnership with EGYM, launched an Active Ageing consultation to explore how the physical activity sector is supporting people aged 55 and over to lead an active lifestyle. Although the barriers and challenges experienced by older adults in being active are understood we are looking to understand how the fitness and leisure sector is supporting older adults to be active, and ultimately what older people want in physical activity offerings.
The first phase of this consultation involved an online case study submission for examples of solutions, programmes, initiatives and commissioning models that support individuals like yourselves to be active. These submissions came from across the fitness and leisure sector.
The second phase is to review these case studies. This is something ukactive would like your help with. This will involve reviewing 2-3 written case studies, providing scoring and feedback, and attending an online focus group to discuss general themes with others. The below provides a detailed description of what this involves.
Once you have had an opportunity to read this and if you would like to sign up please follow this link: (https://www.surveymonkey.co.uk/r/casestudyreview_focusgroupsignup)
or email the ukactive Research Institute (research@ukactive.org.uk).
Further information:
Why have I been invited?
You have been invited to take part in the case study review and focus group because you are an individual aged 55 or older. You do not need to be a member of a gym, leisure centre or be physically active, but you might be.
What will happen if I decide to take part and what information are you collecting?
If you decide to take part, you will be asked to contribute to two parts. The two parts include:
Case study review – you will be provided with two to three anonymous electronic written case studies to review. Review criteria will be provided and will ask you to score and feedback on the case studies based on factors such as setting, cost, number of participants, frequency or duration, type of offering or service and type of activity. The review criteria is standardised so we can make comparisons of your ratings with others. Once you have reviewed the case studies these should be sent back to research@ukactive.org.uk.
Focus group participation – following the written review you will be asked to take part in a focus group to share your opinions on what you feel should be included or not in an offering for older people to be active. Additionally we would like to understand how or if this has changed since the covid-19 pandemic and what our sector can do to support you to remain or better your physical health as we recover from the pandemic. The focus group will last up to 60 minutes and be hosted on Microsoft Teams online by two members of the ukactive Research Institute. The focus groups will be recorded and transcribed so the data can be used in analysis.
What will happen to my information and will it be kept confidential?
All the information and data collected will be kept confidential in accordance with the General Data Protection Regulation (GDPR), and will only be used for the purposes of this research. The key findings from the case study submissions, reviews and focus groups will be used in a sector facing report to provide recommendations. Data may also be used as part of academic manuscripts, conferences or doctoral work for the purpose of building an evidence base of the importance of physical activity. All data will be stored confidentially and will be anonymous. Your individual names will not be used or reported, the majority of the data will only be reported collectively, so you won't be individually identifiable, where quotes are used these will be anonymous.
Do I have to take part?
If you decide to take part you are able to withdraw from the research at any point without having to give a reason. If you do take part then later decide you do not want to be included, the ukactive Research Institute can remove your focus group data (no personal data is collected or used from you during the case study reviews) until the 15th March 2021, after which it cannot be removed because anonymous data will have been combined and your responses will be unidentifiable. Once the research has been full completed, and the data analysed, it will not be possible for you to withdraw your data.
What is in it for me?
Taking part in this research will provide you with the opportunity to share thoughts, experiences and opinions in a confidential space that can be used to shape the future delivery of physical activity provisions for yourself and others aged 55 or over. It is the opportunity to provide valuable feedback to leading members of the fitness and leisure sector as to better support them to make choices activity provisions for the public.
What if I have further questions or a problem?
If you have any questions please get in contact with Dr Matthew Wade, Head of Research, by emailing the ukactive Research Institute at research@ukactive.org.uk.
Contact Age UK Herefordshire & Worcestershire:
Telephone: 0800 008 6077
Email: referralhub@ageukhw.org.uk