Join our Captain Tom 100 Team!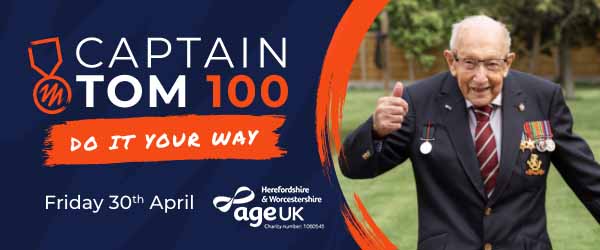 Published on 28 April 2021 04:00 PM
Join our #CaptainTom100 challenge team!
Take part in the #CaptainTom100 challenge to celebrate the life and legacy of Captain Sir Tom Moore and raise vital funds for Age UK H&W.
Friday 30th April 2021 would have been Captain Sir Tom Moore's 101st birthday and the one-year anniversary of the extraordinary celebrations following the conclusion of his famous 100 laps of his garden that raised an incredible £38.9 million for the NHS.
Everyone – of all ages and abilities – is invited to take on a challenge around the number 100 anytime and anywhere over Captain Tom's birthday weekend, starting on Friday 30th April through to Bank Holiday Monday 3rd May.
That could be walking 100 steps, scoring 100 goals, baking 100 cakes, climbing 100 stairs, eating 100 chocolates, hopping 100 laps of the garden, building 100 sandcastles, writing a 100-word poem, flipping 100 pancakes – anything at all, inside or outside.
It's simple and easy to get involved! All you need to do is dream up your Captain Tom 100, fundraise or donate to Age UK Herefordshire & Worcestershire or The Captain Tom Foundation, and share your 100 on social media being sure to tag us @ageukhw and using #CaptainTom100
You can either donate straight to our Just Giving page or create your own fundraising page! Find out more here.
As with many other charities the pandemic has had a huge impact on the fundraising efforts of Age UK Herefordshire & Worcestershire. We've had to cancel events and turn to virtual fundraising. Now the Captain Tom 100 is offering everyone the chance to raise funds for Age UK Herefordshire & Worcestershire.
All the money raised through this challenge will be helping us to support older people across the two counties, helping us to make Herefordshire & Worcestershire a great place to grow older.
If you have any questions or would like support with your challenge contact us!
Please ensure to follow all government guidelines including social distancing when completing your challenge.