Join us at our Dementia Services Webinars!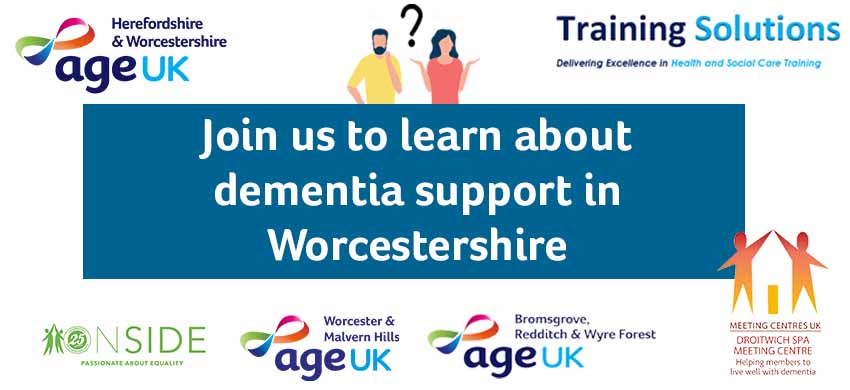 Published on 30 April 2021 04:23 PM
Do you want to learn more about Dementia Support?
Join Age UK Herefordshire and Worcestershire and other organisations from across Worcestershire to learn more about the Dementia Support that is available throughout the county.
As part of Dementia Action Week we want to bring you the knowledge and support you may need to help to support someone living with dementia whether that's in your career or your personal life.
We are running two free webinars during Dementia Action Week, you can see the details below:
We are hosting an information session to tell you about our Droitwich Spa Meeting Centre and the support we can provide for people living with dementia and their carers.
We will be hearing from our centre coordinator and our social inclusion & wellbeing manager who will be there to any questions you have.
20.05.21 - Learn about Dementia Services in Worcestershire
Join Age UK H&W and other organisations from across Worcestershire for this FREE session to learn about dementia support available to you.
We will be joined by several organisations that will all be speaking about various dementia support that is available in Worcestershire.
Our presenters will be:
Both our webinars will be hosted on zoom and once you have registered we will send you a link nearer the time to the event.
Both sessions will feature a Q&A session at the end however if you would like to send any questions before the sessions please email your questions to: marketing@ageukhw.org.uk
If you have any questions please contact us by either emailing: marketing@ageukhw.org.uk or by using the details below.
Contact Age UK Herefordshire & Worcestershire:
Telephone: 0800 008 6077
Email: referralhub@ageukhw.org.uk