Bromsgrove and Redditch meeting centres funding announced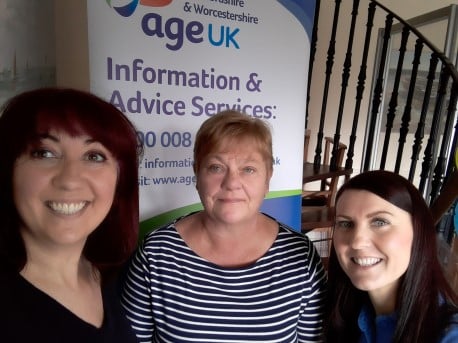 Published on 04 May 2022 10:58 AM
Age UK Herefordshire & Worcestershire opening new Bromsgrove and Redditch Meeting Centres for those living with dementia
Age UK Meeting Centres offers expert, much needed support to people with mild to moderate dementia and their families, in a local community building. They offer an opportunity to socialise, have fun and talk to others. They benefit from specialist help that focusses on their individual needs and circumstances. Meeting Centres base their activities and support on research brought to the UK by the University of Worcester Association for Dementia Studies. It helps people adjust to living with the symptoms and changes that dementia brings.
Julia Neal, CEO, Age UK Herefordshire & Worcestershire said: "We're delighted to be awarded new funding from Worcester County Council and the six District Councils. This will extend our community dementia support services in Bromsgrove and Redditch over the next few months. We're working with our partners at Age UK Bromsgrove Redditch and Wyre Forest and Sanctuary Care to make this happen".
The new centres complement the existing support offered by Age UK Herefordshire & Worcestershire. We also offer less formal support and advice through our Dementia Wellbeing advice service, our 10 local Dementia cafes, our new MCST therapy courses, our specialist dementia training courses for families and professional care workers, and the existing Meeting Centres in Droitwich, Kidderminster, Stourport and Hereford.
Kelly Baya, the Meeting Centre Service Manager at Age UK Herefordshire & Worcestershire says "for both members and their wider families, creating the right 'home from home' environment at the centres and having sufficient time to talk and be listened to is so important. Our Carer Discussion Groups are a much-valued opportunity to talk with other carers and staff, and to get involved with the Centre activities as much or as little as they wish".
University of Worcester Fellow, Dorothy Wilson MBE, the independent Chair of the joint University of Worcester and Worcester County Council Assessment Panel said: "The Panel was delighted to be able to approve funding for another two Centres. We look forward to building on the experience of established Meeting Centres to support the new Centres and create opportunities for more people living with dementia and family carers across the county."
If you'd like to find out more about any of our dementia services or to arrange a meeting centre taster day, please contact us on 0800 008 6077 or email referralhub@ageukhw.org.uk