New Stimulation Therapy groups to delay dementia symptoms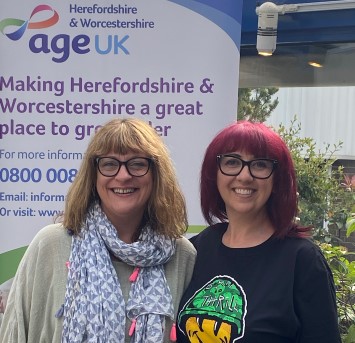 Published on 05 May 2022 11:15 AM
Anyone receiving a diagnosis of dementia will know that it has a profound effect on them, their families and support networks.. At Age UK, pilot studies have shown that people living with mild to moderate dementia symptoms who take part in small peer group therapy sessions, feel an improvement their general wellbeing. This research has also shown that taking part in these activities slows the progression of dementia symptoms. Age UK Herefordshire & Worcestershire are running new sessions, known as Maintenance Cognitive Stimulation Therapy (MCST), starting in June at centres in Hereford and in Worcester.
The groups take part in a huge variety of activities, which make use of all our different senses, to maintain memory and mental functioning. Some of these are creative and musical activities, discussions, word games, puzzles, games, quizzes and physical activities.
The benefits of MCST were assessed by the group members themselves, their carers and staff. The benefits they cited included having more enjoyment in life, feeling increased levels of happiness, increased confidence to try new things, improved communication with both reading and writing, improvements in memory and mental ability and increased levels of physical activity. Because each group is small and friendly, there is also great peer to peer support as people make new friends and social contacts.
Sometimes people are offered Cognitive Stimulation Therapy (CST) after receiving a dementia diagnosis. This typically runs for 7 weeks, however there is limited specialist support for people with mild dementia after this has finished. Many people do not have access to CST through the NHS. Age UK's longer-term support, delivered over a 6-month period, improves the quality of life for people with dementia and gives them, their carers and families much needed time to adjust.
Kelly Baya, one of the specialist dementia team at Age UK Herefordshire & Worcestershire, says "What's important for people facing a dementia diagnosis is a sense of being able to take some control back for themselves and manage things in a much more proactive way. Although the diagnosis is very hard to deal with because there is no cure and limited medication, these sessions have the huge benefit of delaying symptoms which in turn buys time for the family to enjoy together and to adjust more gradually to living well with this disease."
If you know someone who has mild to moderate dementia and could benefit from joining a group, please get in touch with us for a chat and to arrange an assessment on 0800 008 6077 or email referralhub@ageukhw.org.uk