Inkberrow Young Farmers Club set to support Age UK Herefordshire and Worcestershire's Dementia Services at Charity Christmas Fayre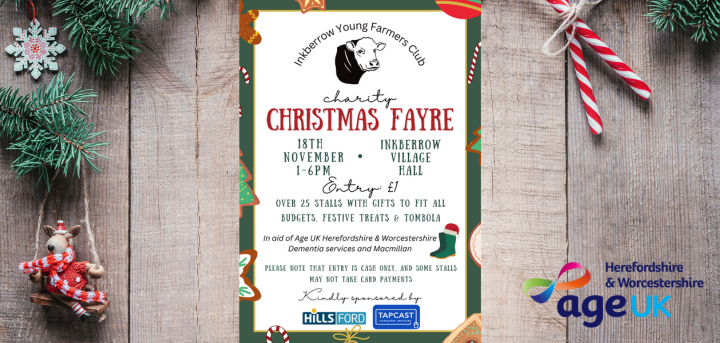 Published on 13 November 2023 09:06 AM
Age UK Herefordshire and Worcestershire are delighted to have been chosen as one of the Charities supported by Inkberrow Young Farmers Club in their upcoming Charity Christmas Fayre.
The event, which is taking place on Saturday 18th November, will help to raise funds specifically for our Dementia Services, alongside the wonderful Macmillan Cancer Support.
Inkberrow Young Farmers Club is part of one of the largest rural youth organisations in the UK. It is headed up by the National organisation and nationwide there are 598 Young Farmers' Clubs (YFCs) in England and Wales for young people who have a love of agriculture and rural life.
The decision to support Charities in their local area is a testament to the generosity and community spirited nature of Inkberrow Young Farmers Club. Funds raised will make an important contribution to supporting our Dementia Services.

The Christmas Fayre is scheduled to run from the Inkberrow Village Hall all afternoon, from 1pm through to 6pm, with over 25 stalls featuring a multitude of gifts and festive treats as well as a Tombola. Entry is set to be just £1 (cash only), with some stalls accepting card payments. The afternoon promises to be a great opportunity to stock up on locally crafted gifts just in time for the Festive Season!
Speaking in relation to the event, Inkberrow's Young Farmers Club Co-Chairs Bethany Neal and Jen Tyson said:
"We're very excited to be running a Christmas Fayre to raise money for our charities this year, which includes Age UK Herefordshire & Worcestershire's dementia services. Many of our members have seen what relatives living with dementia go through, and the benefit of support, so we're very keen to be raising money for these services this year. We've got lots of local craft businesses, a tombola and homemade cakes, as well as mulled wine and hot chocolate to keep you warm!"
Our Dementia Services Manager Kelly Reeves also added:
"We are exceptionally grateful for the support of the Inkberrow Young Farmers Club in raising funds to support our Dementia Services running in Herefordshire and Worcestershire. The Club's dedication to raise funds for Age UK Herefordshire and Worcestershire will directly benefit and improve the lives of people living with the diagnosis in the counties and aids to raise awareness about the disease. I am sure their Charity Christmas Fayre in November will be a great success!"
You can read more about our Dementia Wellbeing Service here: https://bit.ly/3u3ExxU
You can read more about the Inkberrow Young Farmers Club here: https://bit.ly/49p6GzH