Les and Gill's Dementia Cafe Story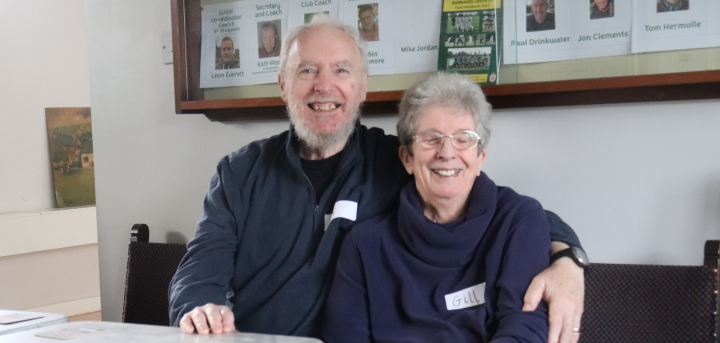 Published on 16 November 2023 02:58 PM
The lives of Les and Gill took an unexpected turn in May 2022, as Les was diagnosed with a form of Dementia called Logopenic Progressive Aphasia. This type of Dementia is very rare and primarily affects people's language and communication skills, making it difficult for them to find words or phrases.
"Having been once - we haven't missed any others"
Since then, adjusting to Les' diagnosis hasn't been easy for either of them. Les detailed the anger and disbelief he felt at first after learning of his diagnosis, and the subsequent strain that put on the relationships around him.
"I was so angry at first. I didn't want to come to a Dementia Café. I didn't think it would be for me, however, my wife encouraged me and I usually do what I'm told."
Dementia can take away aspects of independence and Les spoke of difficulties in stepping back from things like driving, as well as challenges with reading and speaking. It can also be really isolating after a diagnosis, for both the person diagnosed and those loved ones around them.
However, through attending our Malvern Dementia Cafe, both Les and Gill have found a social place to connect and learn more about Dementia with others who are also affected, as well as having some fun. Recounting the early period of his diagnosis, Les detailed his anxieties when speaking about his dementia diagnosis and understanding it:
"I just didn't talk about it, I was worried I would get things wrong, but when I came here it changed everything for me".
Coming to a Dementia Cafe enabled Les and Gill to have access to a wider support network, and led them to forge a strong relationship with Age UK, which Gill commented on:
"We knew we could rely on Age UK as well, who have helped us on and off for all sorts of things. In fact, we've got nothing but praise for Age UK Herefordshire and Worcestershire."
After attending the Malvern Dementia Cafe regularly Les and Gill feel like they now also have the social connections they didn't have at the onset of Les' diagnosis, as well as a wealth of helpful information through our themed visits and sessions, which Gill reaffirmed by saying:
"It's all interesting stuff, it's fantastic, it's been really informative! Isabel does a fantastic job and everybody joins in. I don't know what else we can say, having been once we haven't missed any."
Both Les and Gill want to continue coming to the Dementia Cafe sessions in the future and encourage others in similar situations to perhaps try it as they did. We run a total of eight different Dementia Cafes across the two counties of Herefordshire and Worcestershire, all operating on a monthly basis.
You can watch the video of Les and Gill talking about Les' diagnosis here:
If you or someone you love has a diagnosis of Dementia and would like to learn more, why not read about all our Dementia Cafes here: https://bit.ly/3tXQ5mt