Join us for this year's Big Knit campaign by knitting mini hats!
The Big Knit is a partnership campaign between local Age Uks, Age UK National and Innocent Drinks. The campaign has been running since 2003 and with the help of many volunteers last year a total of 1.5 million little hats were sent into Age UK, raising just under £3 million for local Age UKs across the country!
Anyone can get involved, whether you're a pro or a novice, read more below about how you can get involved and even view our 'how to' video if you are new to knitting!

Thank you to everyone who got knitting for last year's campaign!
The 2020/2021 campaign is underway and we need your help to get to our target of 6000 hats! That's £1,500 raised to help us to support people across the two counties.
1. Grab your knitting needles and any colour wool
2. If you are new to knitting you can watch our 'how to' video below to learn how to knit your mini hat
3. You can download the big knit patterns below or by clicking here
4. Get knitting!
5. Once you've completed your hats you can send them in the post to our Malvern Gate office. Ensure to enclose your name, how many hats you've knitted and contact details so we can send you a thank you! Our offices aren't currently open to the public so if you would like to drop your hats off please hold onto them for now and we will update this page when our office is back open.
6. You can drop your hats at Sainsburys St Johns in Worcester, they have a box where you can drop your hats. Please be sure to pop them in a bag or envelope and let us know how many you have dropped off by contacting us.
For every bottle sold we receive a 25p donation, which helps us reach more people across Herefordshire & Worcestershire.
Need some new ideas to get you going? Why not try:
Setting yourself a hat challenge! Try knitting 100 hats in 6 months!
Encouraging your local knit & natter group to knit hats too!
Set up your own knitting group with your friends, zoom is a great way to keep in touch with others to discuss progress and what new patterns you have been trying!
With your help in 2019 we sent off over 5,800 hats! We couldn't do this without the incredible support of all our knitters, so thank you for making this possible!
If you would like to receive an information pack or new patterns we'd be more than happy to send them to you.
So grab your needles and your yarn and let's get knitting! It really is this easy: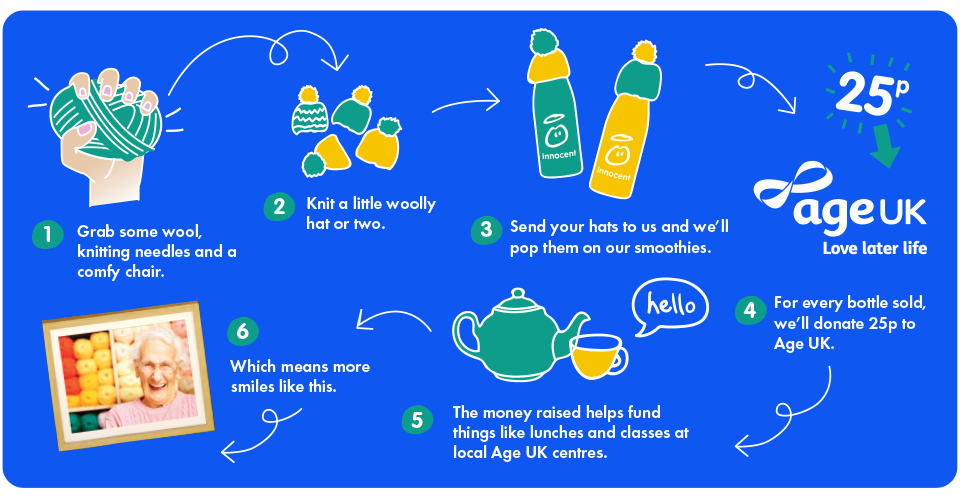 Big Knit Patterns
You can view and download Big Knit patterns from The Big Knit website by clicking read here.
Send your hats to us at:
Age UK Herefordshire & Worcestershire
Malvern Gate,
Bromwich Road,
Worcester
WR2 4BN
Don't forget: the date, your name and address & how many hats you've knitted!
Contact Age UK Herefordshire & Worcestershire:
Telephone: 0800 008 6077
Email: referralhub@ageukhw.org.uk
Find out more about the Big Knit