Join us for next year's Big Knit campaign by knitting mini hats!
Thank you to everyone who got knitting for last years campaign!
We sent off a total of over 5,800 hats! We couldn't do this without the incredible support of all our knitters, so thank you for making this possible!
For every bottle sold we receive a donation, which helps us reach more older people across Herefordshire & Worcestershire.
So grab your needles and your yarn and let's get knitting! It really is this easy: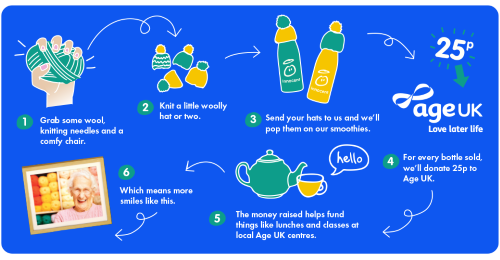 Because you've all done so well we don't want you to stop there! We would love to get started on next years campaign and if you have never knitted before why not start now?
Need some new ideas to get you going? Why not try:
Encouraging your local knit & natter group to knit hats too!
Setting yourself or a group a 100 hat challenge
If you would like to receive an information pack or new patterns we'd be more than happy to send them to you.
Call us: 0800 008 6077 or email fundraising@ageukhw.org.uk
You can download an array of patterns Here
Send your hats to us at:
Age UK Herefordshire & Worcestershire
Malvern Gate,
Bromwich Road,
Worcester
WR2 4BN
Don't forget: the date, your name and address & how many hats you've knitted!
Contact Age UK Herefordshire & Worcestershire:
Telephone: 0800 008 6077
Email: admin@ageukhw.org.uk
Find out more about the Big Knit