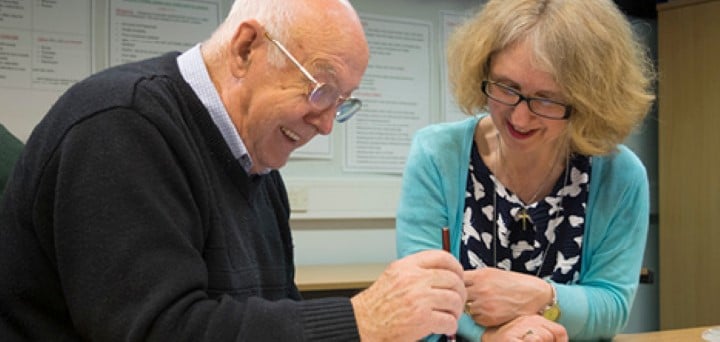 Why get online?
Increase your confidence to access the range of services and products online.
Enable you to reconnect with family and friends digitally.
Increase your independence by giving you the ability to order groceries or reduce fuel costs by switching online.
Allows you to access games and videos you enjoy and access the government and health services you need.
Digital Support:
Beginner Taster Sessions: If you are a beginner, come and have a FREE 45 minute, one-to-one taster session on the basics of using a computer. Tasters are with our computer volunteers and are free, but donations are always welcome.
Please ring to book: 01905 740950 or 0800 008 6077
We run four computer cafes in Herefordshire & Worcestershire, find ther details below.
Our Computer Cafes:
Malvern Gate, Worcester

Our Malvern Gate Computer Cafe takes place Monday and Friday 10:00 - 12:00

Call us to book: 01905 740950

The Hive, Worcester

The Hive Digital Drop-in runs every 3rd Wednesday of the month 11:00 -12:30

To book call The Hive: 01905 765576
Ross-on-Wye Computer Cafe

Join our Ross cafe at Smallbrook Gardens Community Centre every Thurs 10:00 - 12:00

Call our Ross Office for more information: 01989 567165

Tea and Teach, Droitwich Spa

Barclays Digital Eagles group in Droitwich takes place once a month. For dates and to book, call:

Phil Page from Barclays on: 07469 404302
Could you be a Digital Champion?
We are looking for volunteers with a knowledge of computers, tablets and applications to support older people to get online!
Contact us about Digital Activities
Telephone: 01905 740950 or 0800 008 6077
Email: admin@ageukhw.org.uk