Our courses, one to one support and computer cafe groups can make you feel more confident getting online and using technology.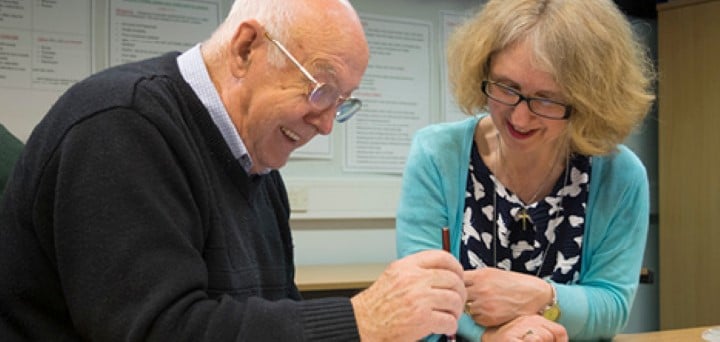 Why get online?
Increase your confidence to access the range of services and products online.
Enable you to reconnect with family and friends digitally.
Increase your independence by giving you the ability to order groceries or reduce fuel costs by switching online.
Allows you to access games and videos you enjoy and access the government and health services you need.
Digital Support:
There are lots of different ways you can access digital support across the two counties including Computer Cafes and 1-2-1 support. Contact us to find out more about how you can access digital support.
Digital support:
Malvern Gate, Bromwich Road, Worcester

Our Malvern Gate Computer Cafe takes place on Mondays from 10:00 - 12:00

Call us to book: 0800 008 6077

Ewyas Harold, Herefordshire

NEW weekly courses, starting on Wednesday, 9th February from 1.30 until 2.30pm at Ewyas Harold Memorial Hall
Ross-on-Wye 1-2-1 Digital Support

Our trained volunteers can offer you 1-2-1 digital support at our Ross-on-Wye office.

Call our Ross Office for more information: 01989 567 165 or 0800 008 6077
Could you volunteer to provide digital support?
We are looking for volunteers with a knowledge of computers, tablets and applications to support older people to get online!
Contact Age UK Herefordshire & Worcestershire:
Telephone: 0800 008 6077
Email: referralhub@ageukhw.org.uk