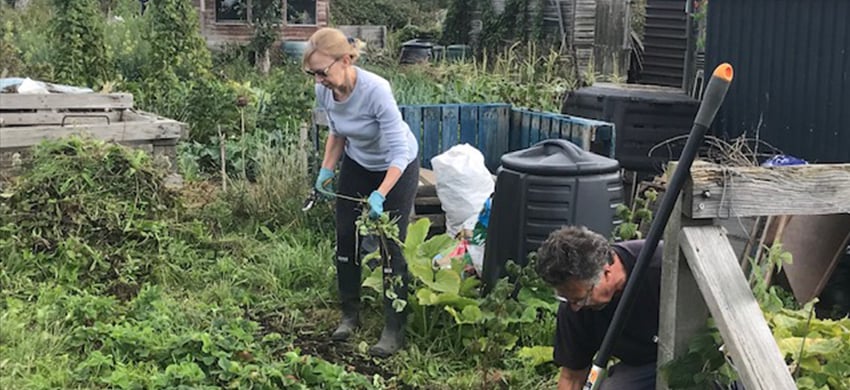 Location: Pershore
Purpose of the role:
Our allotment volunteer visit our allotment in Pershore on a regular basis to maintain and help develop our successful allotment. They may also be asked to assist clients with gardening at the allotment, including demonstrating various gardening techniques.
What will I get out of it?
• You will meet new people.
• It give you a place to be out in the fresh air.
• You will have the satisfaction of growing and maintaining a healthy allotment.
• Gardening is good for your mental and physical health.
• You will be given full training on assisting clients.
• You will have the opportunity to attend other Age UK H&W training courses for free like Dementia Awareness training.
• You will be helping to support people across Herefordshire & Worcestershire.
• You will be part of a close knit team of volunteers and staff.
What is required of me?
• An interest or passion for gardening.
• Our Allotment volunteers are required to have a patient and understanding attitude when they are helping to support clients.
• We require our allotment volunteers to maintain the allotment on a regular basis. Don't worry if you are not well or are on holiday, we can always arrange cover for you.
As a volunteer at Age UK Herefordshire & Worcestershire you will recieve a full induction, including our in-house certificated Bitesize training, and a DBS check where necessary.
For more information please email volunteering@ageukhw.org.uk or call 0800 008 6077
Alternatively, please complete the application form below:
It's quick and easy to become a volunteer
Click apply now to complete our online application form. Alternatively if you would like a printable version please email volunteering@ageukhw.org.uk
Contact our volunteering team:
Telephone: 0800 008 6077
Email: volunteering@ageukhw.org.uk