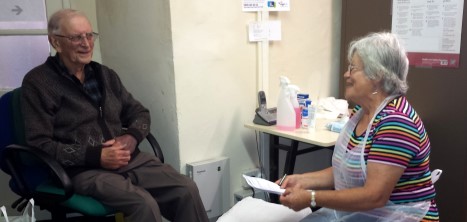 Location: Please get in touch with us to find out the latest location for our volunteer footcare roles.
Purpose of the role:
Ensuring good foot health makes a huge difference to older people, increasing comfort, stability and preventing falls. As Footcare volunteer you will support our busy Footcare & Podiatry service.

What would I do as a Footcare Volunteer?
• Receive full training
• Cut toenails on healthy feet
• Hold a semi-regular day for appointments at one of our premises (Worcestershire)
• Give information and advice to clients on good foot health
• Signpost to other services promoting health and wellbeing
• Footcare volunteers only cut toe nails and deal with healthy feet at our Malvern Gate offices. All complex cases will be seen by our Podiatrists.
What will I get out of it?
• You will meet new people.
• You will have the opportunity to improve your communication skills and healthcare skills.
• You will be given full training for the role.
• You will have the opportunity to attend other Age UK H&W training courses for free like Dementia Awareness training.
• You will be helping to support people across Herefordshire & Worcestershire.
• You will be part of a close knit team of volunteers and staff.
What is required of me?
• Our footcare volunteers are required to have a patient and understanding attitude when they are helping to support clients.
• We require our footcare volunteers to commit to a set time every week to deliver appointments. Don't worry if you are not well or are on holiday, we can always arrange cover for you.
• Full footcare training will be given to all our footcare volunteers.
"I hear some wonderful and astonishing stories as I clip nails and massage feet as a Footcare Volunteer. Some client's feet tell a tale of fashion shoes or extreme sport damage, or the unspoilt feet of a milkman who always wore good shoes and the nurse who forever wore brogues! Age UK H&W provide training from a qualified podiatrist followed by a period of shadowing with an experienced volunteer until you feel comfortable to go it alone. I can highly recommend this way to usefully occupy a recently retired person."
As a volunteer at Age UK Herefordshire & Worcestershire you will receive a full induction, including our in-house certificated Bitesize training, and a DBS check where necessary.
For more information please email volunteering@ageukhw.org.uk or call 0800 008 6077
Alternatively, please download and fill out the application form below:
It's quick and easy to become a volunteer
Click apply now to complete our online application form. Alternatively if you would like a printable version please email volunteering@ageukhw.org.uk
Contact our volunteering team:
Telephone: 0800 008 6077
Email: volunteering@ageukhw.org.uk