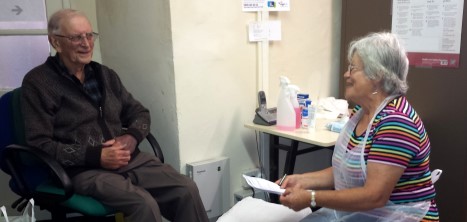 Ensuring good foot health makes a huge difference to older people, increasing comfort, stability and preventing falls. As Footcare volunteer you will support our busy Footcare & Podiatry service.
What would I do as a Footcare Volunteer?
Recieve full training
Cut toenails on healthy feet
Hold a semi-regular day for appointments at one of our premises (Worcestershire)
Give information and advice to clients on good foot health
Signpost to other services promoting health and wellbeing
Footcare volunteers only cut toe nails and deal with healthy feet at our Malvern Gate offices. All complex cases will be seen by our Podiatrists.
Why be a Footcare Volunteer?
"I hear some wonderful and astonishing stories as I clip nails and massage feet as a Footcare Volunteer. Some client's feet tell a tale of fashion shoes or extreme sport damage, or the unspoilt feet of a milkman who always wore good shoes and the nurse who forever wore brogues! Age UK H&W provide training from a qualified podiatrist followed by a period of shadowing with an experienced volunteer until you feel comfortable to go it alone. I can highly recommed this way to usefully occupy a recently retired person."
As a volunteer at Age UK Herefordshire & Worcestershire you will receive a full induction, including our in-house certificated Bitesize training, and a DBS check where necessary.
It's quick and easy to become a volunteer
Click apply now to complete our online application form. Alternatively if you would like a printable version please email volunteering@ageukhw.org.uk
Contact our volunteering team:
Telephone: 0800 008 6077
Email: volunteering@ageukhw.org.uk