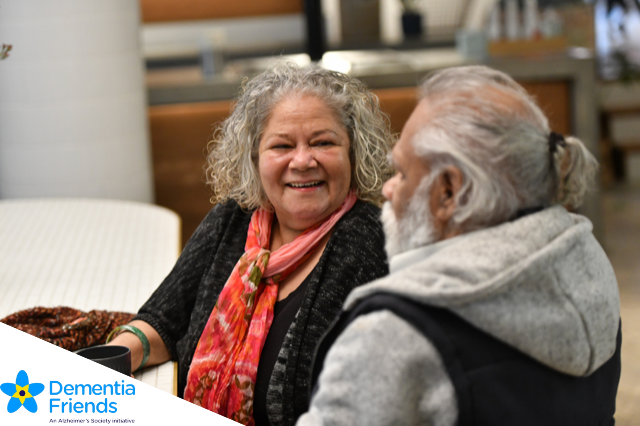 Age UK Herefordshire & Worcestershire
Malvern Gate
Bromwich Road
Worcester
Worcestershire
WR2 4BN
United Kingdom
Come along to one of our local cafes and have a cup of tea with someone who understands.

Our Dementia Café's are a great place to come along to and enjoy activities in a supportive environment. The cafés are here to provide support and information for people living with mild to moderate Dementia, their carers, friends and family.
About our cafes
We have nine cafés across Worcestershire which run on a monthly basis and are free of charge to come along too. The cafes offer a wide range of activities such as local history talks, music and singing, arts and crafts, games and quizzes and the opportunity to have a chat and make new friends.
Locations
Worcester
St Peters Baptist Church, Eden Cl, Worcester WR5 3TZ
Every 1st Friday of the month 12pm – 2pm

Malvern
Barnards Green Cricket Club, North End La, Malvern WR14 2ET
Every 2nd Tuesday of the month 2pm – 4pm

Redditch
Oasis Christian Centre, 4 Plymouth Rd, Redditch B97 4QB
Every 1st Wednesday of the month 10:30am – 12:30pm

Tenbury Wells
The Library, 24 Teme St, Tenbury Wells WR15 8AA
Every 1st Thursday of the month 10.30am – 12.30pm

Upton on Severn
Upton Baptist Church, Old St, Upton upon Severn, Worcester WR8
Every 3rd Monday of the month 2pm – 3.30pm

Bromsgrove
Finstall Village Hall, Alcester Road, Bromsgrove, B60 1EL
Every 2nd Wednesday of the month 10.30am – 12.30pm

Pershore
Pershore Civic Centre, Queen Elizabeth Drive, Pershore, WR10 1PT
Every 3rd Tuesday of each month, 10:30-12:30

Kidderminster
Evangelical Church, Greatfield Rd, Kidderminster, DY11 6PP
Every 3rd Friday of each month, 10:30am-12:30pm
Dementia Post Diagnosis Support
Below is a form for professionals to use to refer clients living with dementia to our services and activities.