Droitwich Spa meeting centre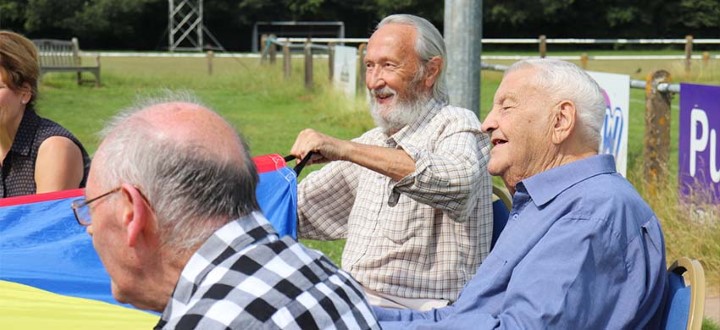 Please contact us to find out about prices – you may be eligible for a free or discounted service. We are committed to providing value for money services.
Please note, if you reside outside this Age UK's catchment area, the price for this service is £25.00.
Droitwich Rugby Football Club
Glyn Mitchell Memorial Ground
Hanbury Road
Droitwich
WR9 7DU
United Kingdom
Our Droitwich Spa meeting centre is a place where people, their families and carers are supported to understand and adapt to living with dementia.
What is a Meeting Centre?
The Droitwich Spa Meeting Centre is a totally member focussed group where all the activities and daily discussions are designed to interact and engage with the members.

We provide Carer Discussion Groups which give the carers an opportunity to talk with other carers and centre staff, and to get involved with the centre activities as much or as little as they want.

The ultimate objective of the meeting centre is to give members and carers the tools and emotional support to adapt to the diagnosis, and for their continued wellbeing to live well with mild top moderate dementia.
https://www.youtube.com/watch?v=pKdLljJSu6g&t=517s
Our regular activities include:
Daily discussions on current affairs and notable dates.
Stimulating activities include: Tai Chi, Hand Therapy, Zumba, Reminiscing, Jenga, Action Songs (Simon Says… and Kathryn's Kinetic Kix), Octyband, Parachute, Hoopla, Music Therapy, Woodwork, Arts and Crafts, Skittles.

We also organise special events, including:
Theatre visits ( the last one to the Worcester Swan Theatre pantomime)
Royal Wedding Indoor Street Party
Ukulele Group
Pamela May Canal Trip [watch the video]
Drone Flying
Laughter Yoga,
Visits from Neighbourhood Watch – 4 PCOS and a Police Dog
National Beer Day with Ploughman's Lunch
https://www.ageuk.org.uk/herefordshireandworcestershire/about-us/contact-us/
Who an attend a meeting centre?
You can attend the Meeting Centre if:

You have been diagnosed with mild or moderate dementia.
You live in Droitwich Spa or the surrounding areas.
(If you live outside of these areas, please still contact us as we may have places available and can offer you advice.)

Opening Times:
When: Every Wednesday, Thursday and Friday
Time: 10.30am – 3.30pm
Parking: Free parking. Information available on transport options.
https://www.ageuk.org.uk/herefordshireandworcestershire/about-us/contact-us/
Our meeting centre partners
We work closely with the University of Worcester active research and education centre.

The MEETINGDEM Network
Find out more about our international meeting centre partners here, https://www.meetingdem.eu/
https://www.worcester.ac.uk/about/academic-schools/school-of-allied-health-and-community/allied-health-research/association-for-dementia-studies/home.