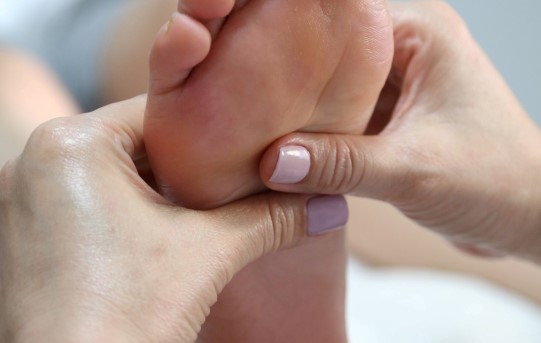 Our Malvern Gate (Worcester) clinics are open.
You can contact us to make an appointment and if you are unable to travel to see us in person we are delivering a limited number of podiatry home visits for those who need it.
Is the service right for me?
Our footcare and podiatry service offers regular appointments to maintain good foot health. If you are aged 50 or over and live in Worcestershire, the service is available for you.
How do I book an appointment?
Simply contact us using the details below. Our team will book you an assessment with one of our qualified Podiatrists. At this appointment, your feet will be assessed and the first treatment carried out. We will then contact you to arrange regular appointments with either the Podiatrist or one of our trained Footcare Assistants for toenail cutting.
How much does it cost?
Please contact us to find out about pricing. We are committed to providing value for money services.
Where do the clinics take place?
Currently, we have clinics in Worcester at our Malvern Gate office and our Ross-on-Wye office. We will keep this page updated when we are able to re-open additional clinics.
To make an appointment or find out more, please contact us.
Watch our video below to find out more about our Podiatry service:
Once our podiatrists have assessed your foot health you may be referred to our Footcare toenail cutting service.
Watch our video below to find out more about our Footcare service:
What to do in an emergency:
If you notice a new foot wound, sore or blister:
Cover with a clean, dry dressing
Keep clean and dry
Contact your GP during normal opening hours
If out of hours use 111 on the phone or via the internet
If you have a confirmed infection AND any of the SEPSIS signs or symptoms listed below contact 999 immediately or go to Accident and Emergency:
Severe breathlessness
It feels like you are going to die
Skin mottled or discoloured
Slurred speech or confusion
Extreme shivering or muscle pain
Passing no urine in a day
Contact Age UK Herefordshire & Worcestershire:
Telephone: 0800 008 6077
Email: referralhub@ageukhw.org.uk
Could you volunteer for our Footcare service?
We're on the lookout for people that would like to volunteer for our footcare service. You don't need any previous experience, full training will be given for this role. We just need you to have a patient and understanding attitude when helping to support clients.
Other information you may find helpful