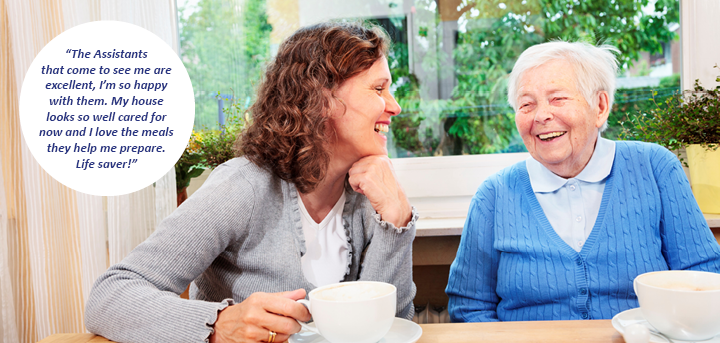 Our Help at Home service is available to anyone over the age of 50 who's looking for regular, reliable support. We employ more than 60 Help at Home Assistants who visit their clients on a regular basis. We can't provide personal care (such as help with dressing, feeding, medication, washing and toileting) but we can help with the following:
Companionship
Keeping a client company so their partner or carer can take some time for themselves
General housework
Cleaning
Sorting and tidying
Laundry and ironing
Changing bed linen
Shopping (either for the client or with the client)
Taking clients to appointments or out for trips and social activities
Preparing lunch and snacks
Dog-walking
Keeping the garden tidy
If this is the kind of help you are looking for, either for yourself or for a relative or friend, please get in touch so that we can arrange a home assessment visit. This will be an opportunity for one of our Support Officers to discuss the Help at Home service in more detail, to find out exactly what kind of help is needed and to plan an appropriate schedule of visits. Our Support Officer will then find a suitable Help at Home Assistant locally who will provide regular support.
Our Assistants all have enhanced DBS checks and undergo relevant training and they are friendly, flexible and professional.
The service is very flexible and we're happy to amend the frequency or length of visits to suit clients' changing needs.
The charge for the Help at Home service is £17 per hour, with a minimum duration of an hour per visit and clients are invoiced monthly in arrears. Clients are charged 45p per mile for any journeys undertaken for them or with them by their Help at Home Assistant. We are committed to providing value for money services.
We've had really good feedback from friends and family about the Help at Home service, so we know what a positive impact it can have on clients:
"The house is looking so well cared for, and he is eating very well from meals the Assistant helps to prepare … I just wanted to give this feedback because it has been a lifesaver"
"… my continued heartfelt thanks and appreciation to the lovely Assistants who have been visiting my parents … I am forever letting them know how much I appreciate their care …"
For more information or to arrange a home assessment visit, please contact the Help at Home Team.
Contact Help At Home:
Telephone: 01905 740950 or 0800 008 6077
Email: helpathome@ageukhw.org.uk