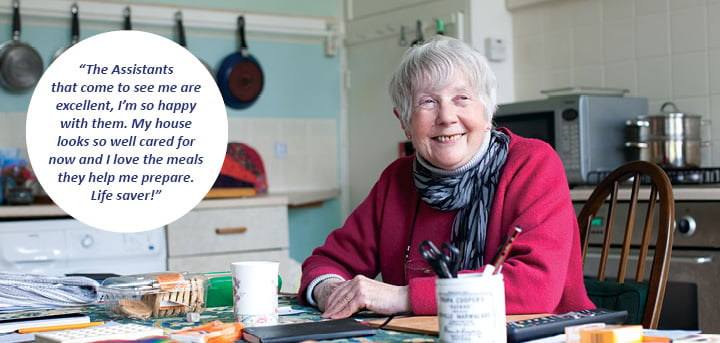 If you are aged 50 or over our Help at Home service can provide assistance with those tasks you may have difficulty doing, helping you to stay independent.
Our employed Help at Home Assistants, will visit you on a regular basis (for a minimum of an hour per week) to help with tasks which might include:
Companionship
General housework
Cleaning
Sorting and tidying
Laundry and ironing
Helping to change bedding
Shopping
Light gardening
Taking you to appointments or social events
Helping you to prepare light meals
Pet walking
Helping you to write and read letters
Reading books and newspapers to you
Having a cup of tea and a chat
Please note that the Help at Home service cannot provide personal care (such as dressing, feeding, washing and toileting).
Please contact us to find out about pricing. We are committed to providing value for money services.
Once we've assessed what kind of help you need, we'll match you with a suitable Help at Home Assistant and this person will be your regular helper, whether it's for an hour a week or more. Our Assistants are all employed and trained by us and they're friendly, flexible and professional.

These arrangements are regularly reviewed, so if you want to increase or reduce the amount of help you're getting or would prefer a different Assistant, that's fine.
We've had great feedback from friends and family about the Help at Home service, so we know what a positive impact it can have - a little bit of help to support you getting the most out of life.
"The house is looking so well cared for, and he is eating very well from meals the Assistant helps to prepare … I just wanted to give this feedback because it has been a lifesaver"
"… my continued heartfelt thanks and appreciation to the lovely Assistants who have been visiting my parents … I am forever letting them know how much I appreciate their care …"
Are you interested in becoming a Help at Home Assistant?
We are always looking for new Assistants to work across the two counties.
Flexible hours, competitive hourly pay.
Contact Help At Home:
Telephone: 01905 740950 or 0800 008 6077
Email: helpathome@ageukhw.org.uk