Free, confidential and impartial information & advice service for older people, their families and carers.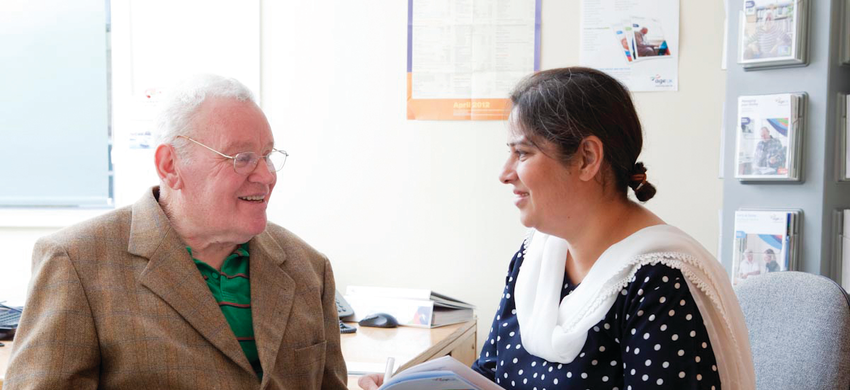 What can we help you with?
Our advisers are trained to help you on a range of queries, such as:
Social care
Provide information on finding a care home or help at home. For online information visit The Care Service Directory.


Your income
Free benefits checks and help with applying for benefits and pensions. Visit Age UKs Benefits Calculator.


Brexit – New Rules for UK Benefits and the EU. There are new rules in place from 1st January 2021. Updated advice and information is available on GOV.UK. Read more here

Tell Us Once Service - This video explains the Tell us once service this is a service for bereaved citizens to inform many government departments just once, of a death. View the video here
Tax
We offer free Tax Surgeries for the over 50s, in partnership with Tax Help for Older People.


Your home
Information on staying safe, warm and independent in your own home.


Legal issues
Wills, Power of Attorney, and how to deal with an estate. Free 30 minute appointments with our expert legal advisor at one of our Legal Surgeries - book an appointment.


Form filling
We can help you fill out forms, including applications for most available benefits.


Wellbeing
Advice on staying safe and healthy in later life, including local activity programmes.


Signposting
If we don't offer a service you need, we can point you in the right direction!


Useful information guides and links
A range of free information guides and links to useful services. If you need hard copies of our free information guides & factsheets, please contact us.
We currently work across Worcestershire & Herefordshire, providing a wide range of support services to ensure fairness and equality for all members of our community.
How to access the Information and Advice service:
Please telephone or email our Referral Hub using the contact details below.
Contact Age UK Herefordshire & Worcestershire:
Telephone: 0800 008 6077
Email: referralhub@ageukhw.org.uk
Useful information:
Find a trusted trader:
You can look online to find a trader you can trust, for example, a builder, plumber, or car dealer. If you are looking for a trader here are some online resources you can look at:
Your local council -you can find your local council here: https://www.gov.uk/find-local-council
Schemes that recommend traders:
You might need to try more than one scheme to find one that covers your area and the kind of trader you're looking for.
You can try:
If you cannot find what you are looking for or cannot access the internet please contact us using the details below.
If you have a problem with a trader or work that has been done then you can contact: The Citizens Advice consumer helpline
"Age UK (H&W) have saved me no end of concerns, it's made my life a lot easier!"
"No doubt if my wife needs anymore help once everything has settled down,we will be visiting the office again.They're so helpful, when you go in there's a smile and a how are you? They don't forget, you see and that's worth a lot."
Free booklets and online information
Age UK produces free information guides and factsheets on a wide range of topics, including home adaptations, dementia, and advice for carers. You can find a complete list of guides and factsheets on the Age UK national website.

View our useful information page where you can access lots of information online from Age UK H&W and various organisations both locally and nationally. You can read information about looking after your health, local activities and much more.
Find out more from Age UK national
Read more about the information and advice you can receive in Age UK National's booklet.
Contact Age UK Herefordshire & Worcestershire:
Telephone: 0800 008 6077
Email: referralhub@ageukhw.org.uk
Further Information:
Related pages on our website
Related pages on other websites: