Talking About My Generation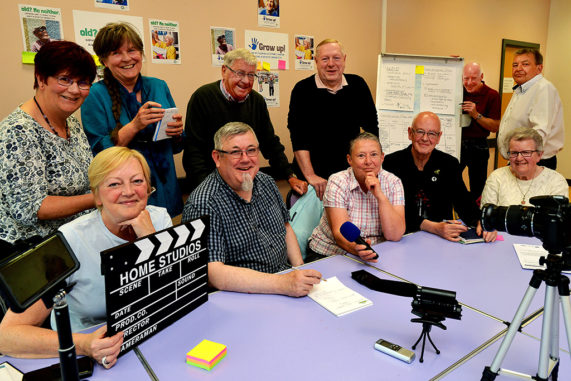 People aged 50 and over set the record straight on growing older in Oldham
We are delighted to be supporting a dedicated news platform started by people aged 50 and over across Greater Manchester who are changing the record on what it means to grow older in the region.
The Talking About My Generation news team – made up of community reporters aged 50 and over from across Greater Manchester, have spent the last 12 months causing a big sensation; capturing stories of inspiring individuals who show there's much to life
over 50 – and have spread the word through events, magazines, podcasts and news interviews.
Now they have launched a new website to continue the project and run as a professional news publication as a legacy to the Ambition for Ageing funding. The website, which has been set up with the support of the Yellow Jigsaw team, is a news magazine for people aged 50 and over – which will gather positive stories of enjoying later life, challenges that are faced, sports, art and culture, nostalgia, podcasts and much more.
Kirsty Day, media director at Yellow Jigsaw, said: "It has been amazing to see the hard work of the news team over the past year – creating dozens of news stories, conducting interviews and being the interviewees on TV and radio programmes. Having worked in the newspaper industry for 12 years, it was great to see this project emulate what actually happens in the newsroom, each person having a role to play in the news team from editor to photographers and reporters. This was not a project that played lip service to giving older people a voice – that was what happened from the start. And this is just the beginning for this tenacious news team, who will continue to work together on the newly launched magazine site that they should all be proud of and will serve their generation in Greater Manchester."
Check out the new website at www.talkingaboutmygeneration.co.uk
The Talking About My Generation Campaign started as an Ambition for Ageing project, which is co-delivered with the support of PR social enterprise Yellow Jigsaw and the Age UK partners from across the funded areas: Wigan, Salford, Tameside, Bury, Oldham, Rochdale, Bolton and Manchester.