New Digitalising Day Opportunities bringing health benefits to older people in Staffordshire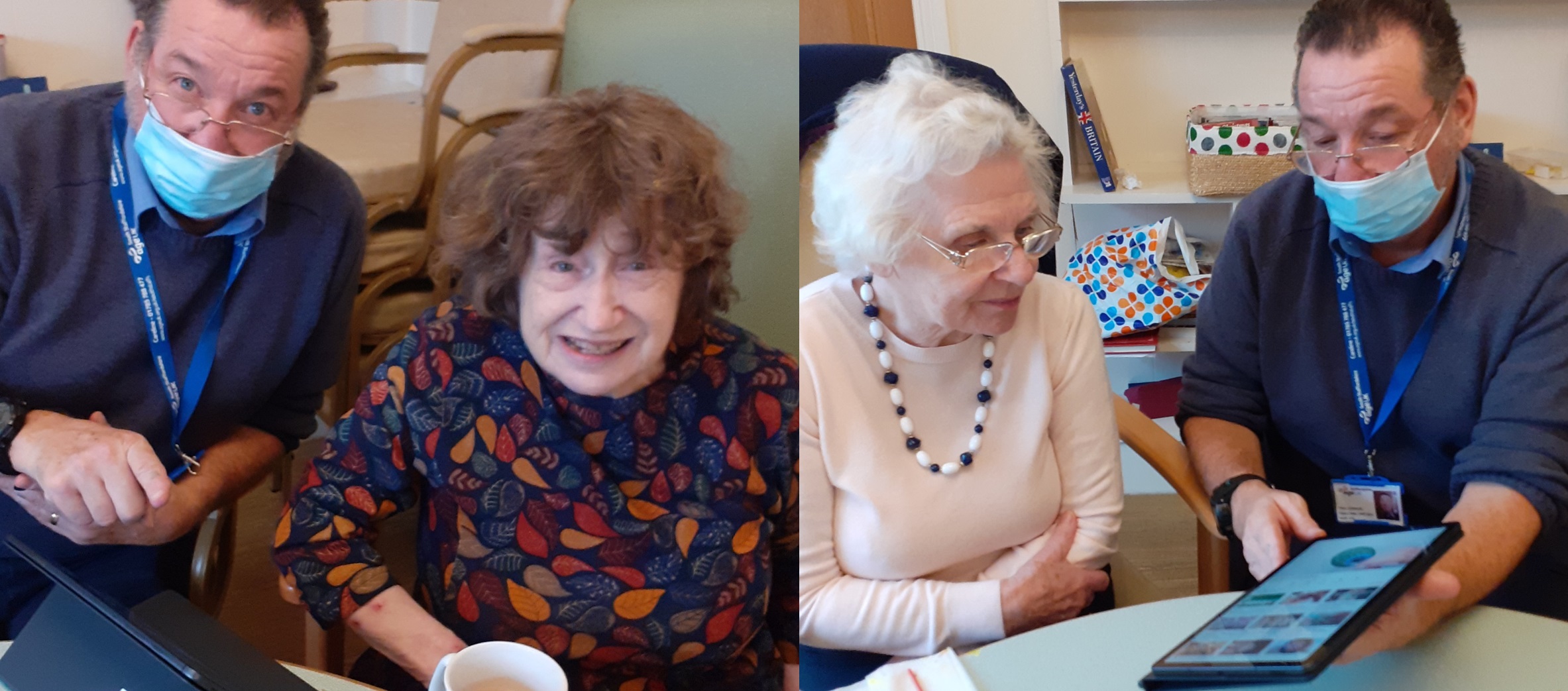 Published on 26 November 2020 12:00 AM
Age UK Staffordshire are using tablets to help local older people to enjoy activities and reminiscence through video.
Over the last 8 months of Covid restrictions and guidelines, Age UK Staffordshire has adapted its services to ensure that it continues to support local older people.
In particular, those with dementia and other complex needs may be more vulnerable due to reduced levels of support from family or elsewhere. Age UK Staffordshire has prioritised some individuals to continue receiving face-to-face support in their day centres or at home.
A new initiative launched by the charity, called Digital Day Opportunities, has seen a roll-out of tablets and laptops across Staffordshire to their day centres and care staff.
Guidelines on wearing face coverings, cleaning and hand santising are in place with all staff, in both the day centres and during any home visits.
Staff are able to use the tablets for a wide range of engaging activities and interactive content, such as games, videos and reminiscence.
Medical experts believe that 'exercising' our brains through mentally stimulating activities like puzzles, games and hobbies is vital to helping our brains to stay in peak condition, and this is especially relevant to those with dementia and other complex needs.
The tablets are being used to showcase exclusive video content produced especially for Age UK Staffordshire, from vintage vocalist Holly Reynolds, seated yoga sessions by Jo Jo Yoga London and more.
In addition, live sessions using the tablets are enabling guests and staff at the day centres to connect and share group activities across Staffordshire, such as reminiscence sessions, quizzes and sing-alongs.
Jenny Bell, Project Lead for Digitalising Day Opportunities, said: 'We're really excited to use this technology to bring new and engaging experiences into our day centres and older people's own homes.
'At Age UK Staffordshire, we're passionate about helping keep people connected to alleviate loneliness and social isolation.
'A third of older people have experienced high levels of anxiety since the start of the pandemic, so being able to engage them in activities and reminiscience can bring huge benefits to their mental and physical health.'
Age UK Staffordshire will be sharing some of their Digital Day Opportunities content to social media, including their new YouTube channel which will be used to upload exclusive video content.
You can 'Like' the charity's Facebook page here, and follow them on Twitter @ageukstaffs