Celebrating Lottery Funding for Befriending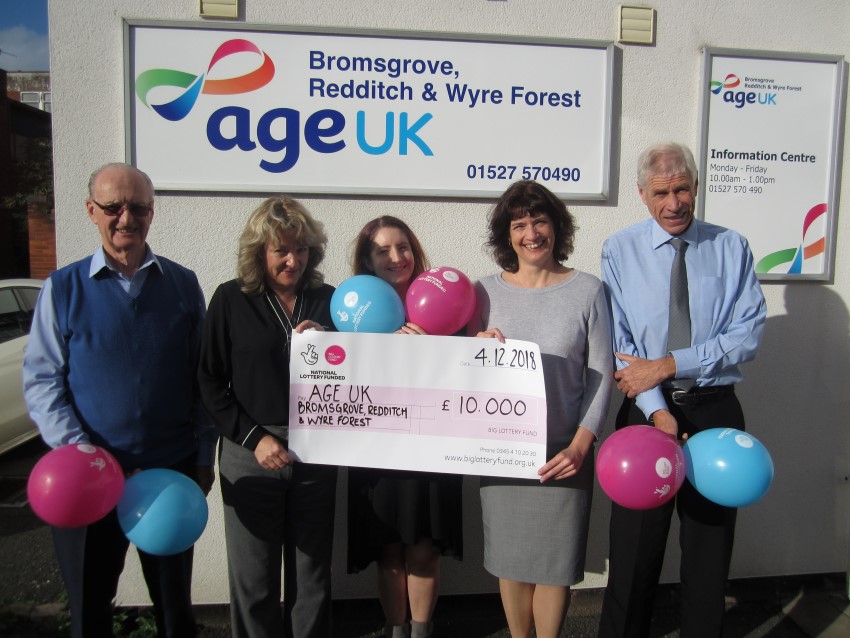 Published on 05 December 2018 10:53 AM
Age UK Bromsgrove, Redditch and Wyre Forest Staff and Volunteers are celebrating after being awarded £10,000 of National Lottery funding for its Befriending & Care Calls service! The charity is one of 33 community projects in Worcestershire for whom Christmas has come early, with over £1 million of National Lottery funding being awarded within the county this quarter. The money, raised by players for good causes, is being distributed by the Big Lottery Fund, the largest funder of community activity in the UK.
It is estimated that there are over 4,500 local people over the age of 65 that are experiencing loneliness (1,472 in Bromsgrove, 1,213 in Redditch and 1,847 in Wyre Forest). Loneliness often begins when people lose significant relationships or the opportunities to engage in ways they find meaningful. Older people are more likely to experience loneliness if they do not have someone to open up to, are widowed, are in poor health, are unable to do the things they want, feel that they do not belong in their neighbourhood or live alone.
Age UK Bromsgrove, Redditch and Wyre Forest has been awarded £10,000, so it can expand its work to support more people over the age of 50, who may be experiencing isolation and loneliness. The grant will help to further develop its befriending service, where volunteers are matched with people to keep them company, either through regular telephone calls or home visits. The volunteers provide friendly, regular contact for people who may be house bound or live on their own, and build up people's confidence to help them reconnect with their local community.
Sam Humphray, CEO of Age UK BRWF said: "As a charity, we are acutely aware of the impacts that loneliness can have on an older person's health and wellbeing. However, we also know the difference that our befriending scheme makes to members of the local community, which is why we are so very grateful to National Lottery players for this award which will help us to develop the scheme and reach more people. I would also like to take the opportunity to appeal to members of the wider community to talk to us about becoming a Befriender as the more people that get involved, the more that we can do to help tackle loneliness across North Worcestershire."
One local lady who is visited by an Age UK BRWF Befriender recently said "I have been so lonely in my house, to have someone come and visit me is wonderful, it's like a little bit of paradise and a ray of sunshine".
If you have a spare hour or so a week, then please contact us on 01527 570490 or email: enquiries@ageukbrwf.org.uk to find out how you can bring 'a ray of sunshine' and make a real difference by becoming an Age UK BRWF Befriender.
To find out more about the Big Lottery Fund visit www.biglotteryfund.org.uk.