Charity Fashion Show's Special Guests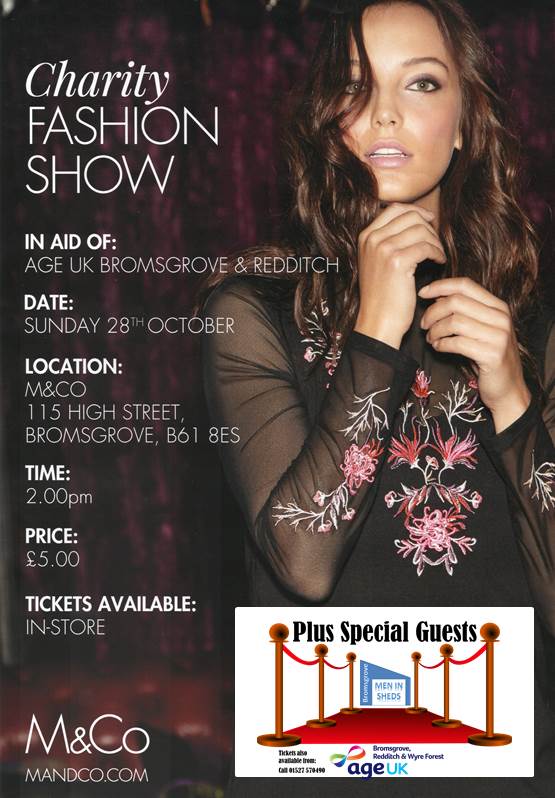 Published on 06 October 2018 01:49 PM
Visitors to M&Co Bromsgrove's Charity Fashion Show, in aid of Age UK Bromsgrove, Redditch and Wyre Forest at the end of this month, are in for a special treat!
Earlier this week members of Bromsgrove Men In Sheds, along with one of the Charity's most distinguished models, were at the M&Co store in the High Street as for the launch of the much anticipated Bromsgrove Men In Sheds 2019 Calendar. Its contents have been very much kept 'under wraps' up until know, but the Shedders hope that sales of this 'very special' Calendar will help to raise funds to help support the continued operation of this much valued group.
The 'Shedders' also announced that they will be making a 'special guest appearance' at the Fashion Show being held at the store on Sunday 28th October at 2pm!
Tickets for the Fashion Show are £5 each with guests having the chance to see the store's latest collection as well as well as having the chance to try on the outfits and make their own purchases with a 10 per cent discount on the day. Tickets are available from M&Co as well as from Age UK BRWF's Windsor Street office and its Bromsgrove shops, with all proceeds being donated to the local charity which provides a range of support, services and activities for members of the community aged 50+.
Speaking at the launch Jo Hughes from Age UK BRWF commented, "I would like to say a huge thank you to M&Co and to Store Manager Jan Everett and her team for all that they are doing to put on this very special show for us - we hope that it will be a memorable afternoon for everyone involved! I am so incredibly proud of the Shedders and all that they are doing to help raise awareness of the impacts of loneliness and isolation and the difference that initiatives like Men In Sheds make. The Calendar just shows how much this group means to the Shedders and the lengths that they are prepared to go to to ensure that it continues."
Anyone that is interested in Fashion Show Tickets , the Bromsgrove Men In Sheds 2019 Calendar or in finding out more about the work of this local charity can contact Jo Hughes at Age UK BRWF on 01527 568855.