College Students Premiere Films to help tackle loneliness
Published on 27 June 2019 08:27 PM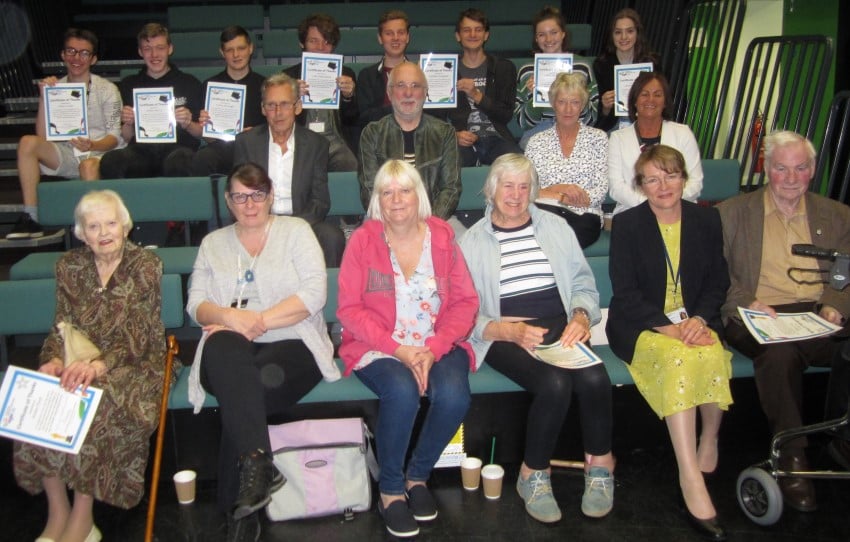 Representatives from Heart of Worcestershire College and Age UK Bromsgrove, Redditch and Wyre Forest, along with Councillor Shirley Webb and representatives from the local community, gathered at the College's Bromsgrove Campus Studios on Friday 21st June 2019 for a special event to premiere two videos that have been produced by 1st Year TV & Media students to help raise awareness of the local charity's Befriending service.
Latest figures estimate that there are over 4,500 people aged 65+ that are lonely living in North Worcestershire. As part of its focus upon tackling loneliness, Age UK BRWF has a local befriending service, where a volunteer will regularly visit an older person or will phone them for a chat. The service is based on friendship and the idea is that the volunteer befriender will get as much out of meeting the person as the person does out of meeting the befriender.
From feedback that it receives from clients, their families and its volunteers, Age UK BRWF knows Befriending works. The challenge facing the charity is that it needs more people to get involved so that it can reach more people, which is why the team contacted the TV & Media Students to see whether, as part of their Work Experience Project, they could support a campaign to raise awareness of the service and show people that Befriending is something that they 'can do'.
Over the last few months, two crews from the College have been working on their ideas, in addition to identifying 'local stars' for the videos, several of whom were at Friday's Premieres.
Speaking at the event, Trevor Hughes, Chair of Age UK BRWF's Board of Trustees said:
"On behalf of Age UK BRWF, I would like to thank and congratulate the students on the amazing films that they have produced. Loneliness is a deeply personal experience and addressing it can be complex, but as a charity we believe that nobody who wants company should be without it, which is why our Befriending service is such a valuable service. With the support of these videos, we hope that we can raise awareness and encourage more people to become Befriending Volunteers, so that we can reach more people and help tackle loneliness across North Worcestershire. I would also like to thank the team at the Heart of Worcestershire College. As a local charity, it is important to us that we are recognised as a part of the local communities we support – projects like this help to raise intergenerational awareness and promote opportunities to create 'age friendly communities' for us all."
On behalf of HOW College, Laura Jones, Work Experience and Job Coach (The Arts) commented:
"This project, in collaboration with Age UK BRWF, has given our students the opportunity to enhance and widen their confidence and knowledge and has given them the chance to utilise skills learnt at college within an external setting. Experience is key nowadays, especially in such creative and practical areas such as 'The Arts'. Age UK BRWF''s Befriending service is such a benefit for the local and wider community with opportunities to volunteer and to help combat loneliness. I am so proud of the students' professionalism and attitude throughout their work experience. They have really showcased the high-quality work which our students are able to produce. A huge thank you also to the Age UK BRWF team for giving our students this opportunity, along with their support throughout. I look forward to maintaining the great working relationship Heart of Worcestershire College has with Age UK BRWF, as it is one we value very much."
Age UK BRWF's Befriending Coordinator, Amy Pople, who has been working with the students over the last few months, also added:
"The videos the students have created for the Age UK BRWF Befriending service will be a fantastic way for us to get the message out there, to our local community, that there are so many older people in need of someone to simply talk to. Not only can we reach potential new volunteers who wish to help, but we can reach those people in need, who may not even know we have a Befriending Service that they can use. I am so grateful to the students of HOW College– they have done an amazing job – not only to benefit their own studies, but to also benefit their local community."
Age UK BRWF hopes to showcase the videos on its website over the coming weeks but in the meantime anybody that is interested in finding out more about the Befriending service and, in particular becoming a Befriending volunteer can contact Amy on 01527 871840 or visit www.ageuk.org.uk/brwf/get-involved/volunteer/befriending-volunteer/ for more information.