Feeling useful is the best pill in the world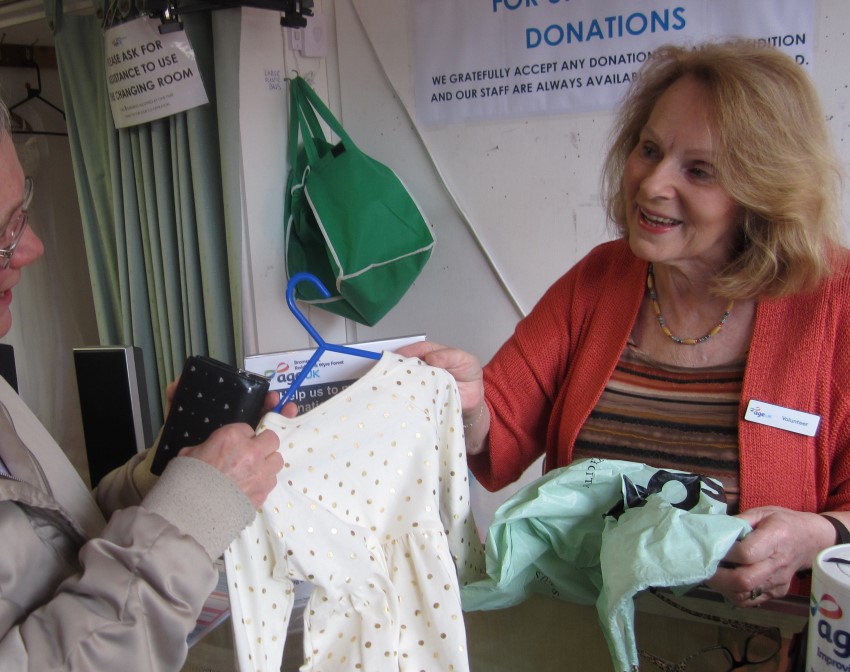 Published on 12 April 2019 09:09 AM
There are many different reasons why people give their time and get involved in volunteering. Age UK BRWF Retail Volunteer Tina Hunt has very kindly offered to share her story and experiences to raise awareness of the benefits of volunteering and to help encourage others to get involved.
Age UK BRWF currently has eight shops across North Worcestershire. As well as raising vital funds to support its work with older people across North Worcestershire, our Age UK BRWF shops are important 'hubs' for their local communities - but our shops couldn't open without the fantastic commitment from our volunteers!
Tina has been regularly volunteering at Age UK BRWF's Church Street Shop in Bromsgrove for over three years. Four years ago Tina was diagnosed with breast cancer and only two months after surgery, Tina had to undergo life changing bowel surgery.
Reflecting on that period Tina said;
"Suddenly, a whole year had gone by, taking with it all my confidence - quickly replacing it with depression and anxiety. Pills and Cognitive Behavioural Therapy helped, but only a little. I needed people, confidence building and a sense of worth."
Tina decided to try volunteering at Age UK BRWF's Church Street shop in Bromsgrove.
"We all know that helping others makes us feel happy and is instrumental in giving us back our feeling of self-worth. This discovery often prevents, and sometimes helps to relieve, some of our most painful struggles - physical and mental. Older volunteers (I was 72 when I joined Age UK BRWF) often find that after a short while, they feel much younger - I certainly did! Chronically ill people may find they experience fewer symptoms and pains. This is because we're not simply sitting at home thinking about our unhappy circumstances, but, again needing to use our bodies and our brains. Connecting with other people - customers and fellow volunteers is so rewarding, fulfilling and interesting. I still have lots to offer and feeling useful is the best 'pill' in the world. The old saying...'if you don't use it you lose it' comes to mind!"
Speaking about the Church Street shop where she regularly volunteers on a Sunday afternoon, Tina said;
"The shop is staffed with lovely people, managers who seem to have been chosen not only for their business abilities but for their compassion and understanding of others - especially their volunteers. Volunteers are real people, from different backgrounds and with different challenges. At Age UK BRWF I am not made to feel guilty about what I can't do – the focus is upon what 'I can do' and I am told that any hour I can give is gratefully appreciated".
Over the time spent volunteering with Age UK BRWF , I have made friends with staff and some lovely 'regulars'. I returned from holiday recently - the manager and two volunteers hugged me and welcomed me back – it felt like re-joining a family gathering! My own family live many miles away and although we do meet fairly often, the love and concern shown to me that day by the Age UK BRWF team (staff and volunteers) made me to feel alive, appreciated and very happy".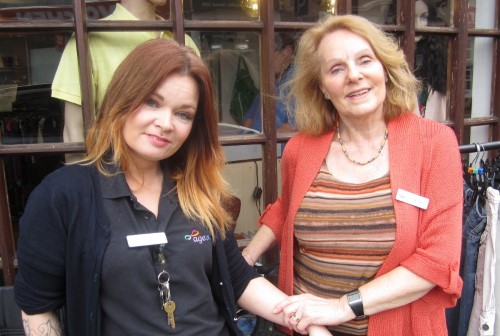 Summing up her volunteering experience Tina said
"Comments such as 'we love having you here' and 'we appreciate what you have done today' make me feel valued. In the great scheme of things, I don't think I that offer Age UK BRWF very much (4 hours on one day) but I am frequently reminded that every hour that is volunteered by one person is so very necessary to the success of the Charity that has, itself, so much to offer local people.
So if you can spare an hour (whether you are interested getting involved with the shops, supporting services including Information & Advice, Befriending and Foot Care, or sharing your knowledge and experiences with groups and activities such as the Computer Groups) you can make a real difference to local people by getting involved with Age UK BRWF."